European Union Commissioner for Health & Food Safety Vytenis Andriukaitis spoke about the potential of gene editing during his speech at CRISPRcon, in Wageningen, The Netherlands on June 20-21, 2019. CRISPcon has, for the first time in Europe, gathered a broad selection of diverse voices to discuss the future of CRISPR and related gene editing technologies across a variety of applications in agriculture, health, conservation, and more.
Andriukaitis said, "new breeding techniques can help us tackle some profound challenges such as food security, food intolerances, or climate change." He cited examples such as the low-gluten, non-transgenic wheat developed through gene editing by Instituto de Agricultura Sostenible (Institute for Sustainable Agriculture) in Spain and the University of Minnesota in the USA; and non-browning potatoes which reduced acrylamide by 60-70% when baked, fried or roasted at high temperatures.
According to the Commissioner, gene editing techniques can be used to improve crop resistance, herd health, food quality, diets, and nutrition.
For more details, read the news article in the European Seed Association website. The Commissioner's full speech is available here.
[ Send to a Friend | Rate this Article ]
---
Society and the legislative authorities are often cynical about the presence of transgene in GMOs however, more advanced plant breeding techniques like CRISPR system transcend this limitation through transgene-free products.
Potatoes are a major food crop globally, even having the potential to handle the rising world population. However, the cultivated potatoes are susceptible to plant viruses and cold-induced sweetening, which is the conversion of sucrose to glucose and fructose inside cell vacuole. To address these limitations, crop breeding and genetic engineering strategies have been employed to improve traits of the crop.Genes/factors that make potato a vulnerable crop, i.e. eukaryotic translation initiation factors that help viruses infect the crop and vacuolar invertase are targeted using new breeding techniques.
One of these new breeding techniques is the CRISPR technology, which could reduce the cost of potato production. It is reported that this would most likely get through regulatory processes since it's transgene-free.
Read more from GM Crops & Food.
[ Send to a Friend | Rate this Article ]
---
Researchers from the University of Tokyo were able to edit the mitochondrial DNA of the plant for the first time. The scientists turned their attention to the cytoplasmic male sterility (CMS) of the plant, which is a type of rare plant male infertility caused by genes in the mitochondria. CMS is attributed to certain mitochondrial genes.
Using rice and rapeseed (canola), the research team used the technique called mitoTALENs, or the mitochondria localization signals transcription activator-like effector nucleases. This technique was previously used to edit mitochondrial genomes of animal cells. To sum up, the technique uses a single protein to locate the mitochondrial genome, then cut the DNA at the desired gene to delete it. By deleting the CMS gene, the plants became fertile again. The Japanese scientists likened the plants used in the experiment as "more polite," noting how the plants bowed deeply under the weight of heavy seeds.
Further investigation through sequencing showed that double-strand breaks induced by mitoTALENs were repaired by homologous recombination. This proved that the target genes and surrounding sequences were deleted, showing that mitoTALENs can be used to stably and heritably modify the mitochondrial genome in plants. This is the first time that the editing of a mitochondrial plant DNA was documented.
The mitochondria is the powerhouse of the cell. Plants get a significant portion of their energy through the mitochondria. Quoting the scientists, "without it, there is no life." Currently, there is a lack of mitochondrial genetic diversity in crops, which is a weak point in the global food production. The result of this study is an important first step towards plant mitochondrial research that could lead to a more secure food supply.
Read more from Science Daily, and see the abstract in Nature.
[ Send to a Friend | Rate this Article ]
---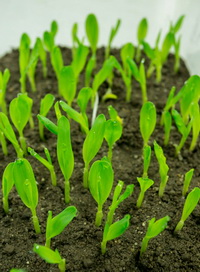 Scientists from China Agricultural University engineered a barley stripe mosaic virus (BSMV)-based guide RNA delivery system for targeted mutagenesis in wheat and maize. The results are published in Molecular Plant Pathology.
BSMV‐based delivery of single gRNAs for CRISPR-Cas9-mediated targeted mutagenesis was first used in Nicotiana benthamiana, a close relative of tobacco. To test if this can also be applied to economically important crops, the researchers transformed wheat and maize with Cas9 nuclease gene and selected the wheat TaGASR7 and maize ZmTMS5 genes as targets to evaluate the feasibility and efficiency of BSMV‐mediated mutagenesis. Results showed that targeted mutagenesis was successful for wheat and maize with efficiencies reaching 78% and 48%, respectively.
Based on the results, BSMV‐based delivery of single gRNAs could be a useful tool in economically important crops.
Read more results in Molecular Plant Pathology.