News
Global
The International Treaty on Plant Genetic Resources for Food and Agriculture announced that it will give 500,000 USD of fund support to 11 developing countries that conserve food seeds and other genetic material from major crops. The announcement was made at the meeting of the Treaty's governing body in Tunis earlier this week. Grants are to be awarded to projects in Egypt, Kenya, Costa Rica, India, Peru, Senegal, Uruguay, Nicaragua, Cuba, Tanzania and Morocco. The Treaty, established in 2004, aimed at protecting and improving access to the world's plant genetic resources.
According to a news release by the UN Food and Agriculture Organization (FAO), the grants were made possible by the generous donations of Norway, Italy, Spain and Switzerland in support of agriculture and food security. The projects were chosen from hundreds of applications and include: conservation of agro-biodiversity in millet, maize and sorghum in Senegal, genetic enhancement and revitalization of finger millet in Kenya, management of potato varieties in rural communities on the Capachica Peninsula in Peru and on-farm protection of citrus diversity in Egypt.
The FAO media release is available at http://www.fao.org/news/story/en/item/20242/icode/ Read the article published by Nature at http://www.nature.com/news/2009/090601/full/news.2009.532.html for more information. For the complete list of projects, visit http://www.fao.org/news/story/en/item/20241/icode/
[ Send to a Friend | Rate this Article ]
---
"If agriculture in developing countries becomes more sustainable, if it increases its productivity and becomes more resilient against the impact of climate change, this should help to reduce the number of currently around one billion hungry people and offer better income and job opportunities," said Alexander Mueller, Food and Agriculture Organization (FAO) Assistant Director-General.
Mueller sets the tone for the on-going negotiations on climate change in Bonn, Germany. This will be followed by a meeting in Copenhagen in December where a new global climate agreement will be adopted. FAO has three proposals for Copenhagen: nationally appropriate mitigation action; financing for agricultural mitigation; and a comprehensive approach to land uses.
See FAO's press release at http://www.fao.org/news/story/en/item/20243/icode/
For a report on agriculture and climate change prepared by the International Food Policy Research Institute read http://www.ifpri.org/2020/focus/focus16.asp
[ Send to a Friend | Rate this Article ]
---
Many markets are stabilizing with international prices of most agricultural commodities down from their 2008 levels. This was reported in Food Outlook published by the Food and Agriculture Organization. Cereals posted the greatest improvement with yields larger than originally forecasted and thus able to meet global demand. World cereal production is expected to be the second largest ever after last year's record.
Oilseed products and sugar are experiencing production setbacks and greater consumption requirements. Greater demand for soybean is a present concern which can affect food and feed prices.
For the full report visit http://www.fao.org/docrep/011/ai482e/ai482e00.htm
Africa
The Alliance for a Green Revolution in Africa (AGRA) announced that it will embark on a joint initiative with the Japan International Cooperation Agency (JICA) aimed at doubling rice production in Africa by 2018. The initiative follows a Memorandum of Understanding signed by the organizations with the New Partnership for Africa's Development (NEPAD) last year. The partnership, formalized at the second General Meeting of the Coalition for African Rice Development (CARD) held in Tokyo, is expected to increase the flow of support to African institutions promoting rice development, AGRA said in a press release.
Rice is quickly becoming a major staple food in Africa. According to AGRA, the demand for rice in sub-Saharan Africa is double the rate of population growth. Although rice production in the continent has increased significantly over the last five decades, much of the increase is based on expanding the area devoted to the crop and not from higher yields.
AGRA President Namanga Ngongi said: "Deepening cooperation between AGRA and JICA is an important step toward significantly boosting rice production by Africa's smallholder farmers, which will reduce costly food imports and move the continent further toward food security."
Read the press release at http://www.agra-alliance.org/content/news/detail/932/
[ Send to a Friend | Rate this Article ]
---
Chrysanthemum farmers in Rwanda will be the beneficiaries of a partnership between the SC Johnson and the Norman Borlaug Institute for International Agriculture based in Texas A&M University. Dried flower heads of certain types of Chrysanthemum are the source of the natural insecticide pyrethrum. The partnership will focus on improving pyrethrum yields, quality and production through farmer organization, advanced technology and more effective agricultural practices. This new project will be implemented through the already existing project on Sustaining Partnerships to Enhance Rural Enterprise and Agribusiness Development project or SPREAD, a USAID-funded effort led by the Borlaug Institute.
Dr. Tim Schilling, director for enterprise development for the Borlaug Institute is optimistic that this public-private partnership will help improve the livelihood of thousands of small-holders, mainly subsistence-level, pyrethrum farmers in northern Rwanda. The Rwandan government has already reserved some 14,000 hectares, about 34,500 acres, for pyrethrum production.
For details, see the press release at: http://agnews.tamu.edu/showstory.php?id=1233
Americas
In 2001, a controversial study conducted by researchers at the University of California Berkeley made waves when it reported the appearance of proteins from genetically modified corn in native maize varieties in Oaxaca, Mexico, the birthplace of the crop. The study's methods were criticized and its results questioned. The journal Nature eventually withdrew the study. The study nonetheless raised the need for methods and public policies for regulating the movement of genetically modified plant material into local seed stocks. A paper published by PLoS ONE recently identified informal seed exchange and grain trade as key to transgenic gene flow in Mexican maize.
George A. Dyer and colleagues from the University of California Davis and National Autonomous University of Mexico used enzyme-based tests, mathematical models of crop populations, and knowledge of established seed-use patterns to analyze maize seed stocks in Mexico for the presence of proteins from GM maize varieties. Dryer and colleagues claimed that the recombinant proteins Cry1Ab/Ac and CP4/EPSPS were found in 3.1% and 1.8% of the samples analyzed, respectively. The recombinant proteins were found to be most abundant in southeast Mexico but also present in the west-central region.
According to Dyer and colleagues, the possible spread of genetically modified seed and grain from the US might explain how the transgenic plant material found its way into West and Central Mexico, but not in the southeast, where the use of foreign seed is fairly uncommon.
The original article is available at http://www.news.ucdavis.edu/search/news_detail.lasso?id=9143 Read the paper published by PLoS ONE at http://dx.doi.org/10.1371/journal.pone.0005734
[ Send to a Friend | Rate this Article ]
---
Plants produce and release different compounds that could be phytotoxic and can prevent the growth of other plants close to them. This process, known as allelopathy, is used by certain species to minimize competition for precious resources like nutrients and water with nearby plants. The common reed (Phragmites australis) produces the phytotoxic gallic acid to keep away other plants. Researchers from the University of Delaware, however, found that allelopathic inhibition can be more complex than previously thought.
Thimmaraju Rudrappa and colleagues discovered that Phragmites, an established invasive species in the U.S., delivers a one-two chemical knock-out punch to snuff out its victims. The toxin produced by the plant is degraded by sunlight, particularly ultraviolet rays (UVB), and causes severe deleterious effects on other native plants.
"Our research addresses the growing questions of increased UV-B incidences because of global warming and its ultimate effect on plants. In this case, an invasive plant is accidentally utilizing the changed global conditions for its survival and invasion," said Harsh Bais co-author of the study. UVB converts the gallic acid produced by Phragmites to mesoxalic acid, a potent compound that destroys structural protein in the roots within minutes of exposure.
Read the complete article at http://www.udel.edu/udaily/2009/jun/superweed060309.html The paper published by Plant Signaling & Behavior is available to subscribers at http://www.landesbioscience.com/journals/psb/article/8698
[ Send to a Friend | Rate this Article ]
---
Researchers at the USDA Agricultural Research Service (ARS) have successfully deciphered the genome of an important bee pathogen. Nosema ceranae, a unicellular spore-producing parasite, is one of many pathogens suspected of contributing to the Colony Collapse Disorder (CCD). CCD was first reported in the US in October 2006, with some beekeepers reporting losses of up to 90 percent. At stake are honey bees, which according to USDA, play an important part in a $15 billion industry of crop farming in the country.
The Nosema genome is 7.86 Mb long, according to the paper published by PLoS Pathogens. The characterization of the N. ceranae genome presented could advance the understanding and eventual mitigation of Nosema parasitism. The researchers have identified some 89 genes that may play important roles in Nosema-honey bee interactions. These genes are said to encode secretory proteins that may interact with host tissue.
Download the full paper at http://dx.doi.org/10.1371/journal.ppat.1000466
[ Send to a Friend | Rate this Article ]
---
The public is being informed about a controlled field release of a genetically engineered (GE) clone of Eucalyptus hybrid by the US Department of Agriculture's Animal and Plant Health Inspection Services (APHIS). The Service has prepared an environmental assessment for the release which is aimed to continue research on the effectiveness of gene constructs which are intended to confer cold tolerance; test the efficacy of a gene introduced to alter lignin biosynthesis; and test the efficacy of a gene designed to alter fertility.
To submit or view comments and to view supporting and related materials available electronically, visit: http://www.regulations.gov/fdmspublic/component/main?main=DocketDetail&d=APHIS-2008-0059 . Check the announcement at: http://www.aphis.usda.gov/newsroom/notices/content/2009/06/geeucal.shtml
[ Send to a Friend | Rate this Article ]
---
BASF Plant Science GmbH and rival company DuPont, two of the biggest players in the agricultural biotech arena, are set to face each other in court. The companies traded lawsuits earlier this week, each accusing the other of patent infringement relating to herbicide-tolerance technology.
BASF sued DuPont and its owned subsidiary Pioneer Hi-Bred International over an alleged unlawful use of its patented promoter in DuPont's Optimum GAT corn. Promoters are short stretches of DNA that control the activity of nearby genes. BASF seeks an injunction and damages against DuPont. The company also seeks to declare invalid and unenforceable DuPont patents for technology relating to herbicide tolerance.
DuPont, on the other hand, filed a lawsuit against BASF claiming the German chemical company is infringing four patents related to biotechnology traits similar to those used in the Optimum GAT trait. In addition to compensation, DuPont wants the court to invalidate a related BASF patent. DuPont had a similar squabble with Monsanto Company a month ago. Monsanto sued the Delaware-based company over an alleged unlawful use of Monsanto's Roundup Ready technologies in a new Pioneer herbicide-tolerant soybean line.
Read http://www2.basf.us/corporate/news_2009/news_release_2009_00124.htm and http://www2.dupont.com/Media_Center/en_US/daily_news/june/article20090603a.html for more information
Asia and the Pacific
For the second time, the Malaysian Agricultural Research and Development Institute (MARDI) hosted the launch of the "Global Status of Commercialized Biotech/GM Crops: 2008". MARDI is one of the beneficiaries of the technology transfer facilitated by the International Service for the Acquisition of Agri-biotech Applications (ISAAA) through the papaya network where vectors and constructs were provided for the development of papaya resistant to ringspot virus and delayed ripening trait.
The launch this year was officiated by the Secretary General of the Ministry of Agriculture and Agro-based Industry, Dato' Mohd Mokhtar Ismail in the presence of the Director General of MARDI, Datuk Dr. Abd. Shukor Abd. Rahman. Both the Secretary General and the DG were confident that GM crops are the way to go to increase food production and reduce negative environmental affects. They also hoped that Malaysia would not be left behind in this technology.
Dr. Randy Hautea, ISAAA Global Coordinator, presented the highlights of the ISAAA Brief to an audience comprising policy makers, scientists, academia, industry, students, regulators, and the media.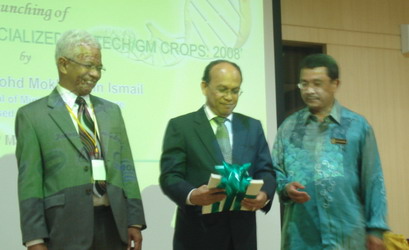 Dato' Mohd Mokhtar Ismail, Secretary General of Ministry of Agriculture and Agro-based Industry, (center) looks at the ISAAA Brief after launching it in MARDI in the company of Datuk Dr. Abd. Shukor Abd. Rahman, Director General of MARDI (right) and Dr. Randy Hautea, ISAAA Global Coordinator
Contact Mahaletchumy Arujanan of the Malaysian Biotechnology Information Center at maha@bic.org.my for additional information.
[ Send to a Friend | Rate this Article ]
---
Three new rice varieties bred by the International Rice Research Institute (IRRI) have been officially recommended for commercial cultivation in the Philippines. They were field tested and evaluated by the Rice Varietal Improvement Group through the National Cooperative Testing (NCT) program of the Philippine Rice Research Institute (PhilRice). "The Rice Technical Working Group of the National Seed Industry Council will now recommend the varieties for official approval, which is expected to occur sometime in late 2009," said Ms. Thelma Padolina, NCT national coordinator at PhilRice.
Each variety was designed to be flood- tolerant, drought- tolerant, and salt-tolerant, respectively. "Rice-growing land that has limited productivity will become more productive when these new rice varieties are used – this will help Filipino farmers produce more rice," said Dr. David Mackill, program leader and plant breeder at IRRI.
For additional information contact Sophie Clayton at s.clayton@cgiar.org
Europe
The European Commission (EC) has agreed to a proposal put forth by the Polish government to create GMO-free zones in the country, according to a report by Polskie Radio. Poland is known as one of the strictest countries in the world when it comes to genetically modified organisms (GMOs). Farmers planning to grow transgenic crops must first secure a permit from the local government which will in turn inform neighbors who have the right to reject a GMO crop in their vicinity. A rejection would disqualify the farmer from acquiring a license to grow GM crops. Farmers that were able to secure a license are required to document every step of the growing process. If these rules are violated, farmers would face a hefty fine of 4,500 euros (6,400 USD).
The original article is available at http://www.polskieradio.pl/thenews/news/artykul109139_ec_accepts_polish_gmo_regulations.html
[ Send to a Friend | Rate this Article ]
---
Limagrain, an international cooperative group based in France signed a non-exclusive license agreement for the use of the I-SceI meganuclease for use in plants from Cellectis. This will allow Limagrain to conduct research and development of important plant traits using biotechnology. Biogemma, a biotechnology company with Limagrain stocks, will be responsible for the production of the plants. Subsequently, the plants will be commercialized by Limagrain and other shareholders of Biogemma. The agreement complements the thrusts of the involved partners to develop genetically modified plants that would allow the assembly of multiple traits of interest in a single plant.
For details, see press release at: http://www.cellectis.com/fileadmin/Cellectis/Communiques_de_Presse/clspr-gb-090602.pdf
Research
There's more to junk DNA than previously thought, according to researchers at the USDA Agricultural Research Service and collaborators at Johns Hopkins University. As it turns out, what was first thought of as DNA with zero value in plants may actually be important regulator of gene expression and may be key in helping scientists produce better transgenic crops.
Bret Cooper and colleagues searched the junk DNA in the model plant Arabidopsis for short DNA segments that appeared as molecular patterns. When comparing these patterns to genes, the researchers found that 50 percent of the genes had the exact same sequences as the molecular patterns. These patterns, called pyknons, are important because they portend an unforeseen connection between coding and non-coding DNA. They have only been identified in the human genome so it is unknown whether pyknons have wider biological relevance or are simply a phenomenon of the human genome.
In an article published by Molecular BioSystems, Cooper and colleagues observed that most of these pyknons resemble small segments of RNA that regulate gene expression through gene silencing. According to them, this suggests that gene silencing RNA segments are converted back into DNA and are integrated into the intergenic space. Using information from pyknons, scientists can pinpoint genes that are controlled by gene silencing. There may also be some application for the improvement of transgenic plants by using the pyknon information.
Read the original article at http://www.ars.usda.gov/is/pr/2009/090602.htm The paper published by Molecular BioSystems is available at http://dx.doi.org/10.1039/b903031j
[ Send to a Friend | Rate this Article ]
---
A team of researchers from the National Maize Improvement Center of China, University of Wisconsin and Chinese Ministry of Agriculture has produced an integrated genetic and cytogenetic map of the cucumber genome, an important resource for plant breeders developing better cucurbit crops. The map includes 995 simple sequence repeats (SSR) markers in seven linkage groups which spans in total 573 centimorgans. Among the 995 SSRs, 49%, 26% and 22% were conserved in melon, watermelon and pumpkin, respectively. FISH (fluorescent in situ hybridization) analysis was used to establish the relationships between linkage groups and cucumber chromosomes.
The map, according to researchers, is the first reported for a cucurbit species. Yi Ren and colleagues, noted in a paper published by PloS ONE, that the availability of such map would facilitate whole genome sequencing and positional cloning, enhance marker-assisted selection, and provide opportunities to investigate synteny among cucurbit species.
The paper is available at http://dx.doi.org/10.1371/journal.pone.0005795
[ Send to a Friend | Rate this Article ]
---
Researchers at the National Autonomous University of Mexico have developed transgenic carrot plants accumulating significant levels of the rabies virus glycoprotein. Rabies continues to be a major health problem worldwide, especially in developing countries, in spite of the availability of vaccines. The researchers believe that a vaccine expressed in an edible plant could provide a less expensive alternative.
The rabies glycoprotein gene was introduced to carrot embryogenic cells by particle bombardment. The scientists observed that all transformed plants presented a normal phenotype when compared to non-transformed plants. Mice immunized with the antigen were found to produce rabies antibodies and resist challenge.
The paper published by Transgenic Research is available at http://dx.doi.org/10.1007/s11248-009-9278-8
[ Send to a Friend | Rate this Article ]
---
By using a whole-genome oligonucleotide microarray to investigate the transcriptome profiles of LYP9 rice and its parental cultivars, Zhu Lihuang and colleagues from the Chinese Academy of Agricultural Sciences and National Hybrid Rice Research and Development Center shed light on the hereditary basis and molecular mechanism of a popular superhybrid rice variety. Developed in the 1970s by Yuan Longping, the Father of Hybrid Rice, LYP9 is one of the hybrid rice varieties credited with solving China's food problems.
Clustering results showed that the F1 hybrid's expression profiles resembled those of its parental lines more than that which lies between the 2 parental lines. Out of the total 22,266 expressed genes, the scientists found that 7,078 genes are shared by all seven sampled tissues. As researchers divided differentially-expressed genes into those between the parents (DGPP) and between the hybrid and its parents (DGHP), the comparative results showed that genes in the categories of energy metabolism and transport are enriched in DGHP rather than in DGPP. These differentially-expressed genes, particularly those involved in carbohydrate metabolism, are candidate genes governing heterosis.
Download the paper published by PNAS at http://dx.doi.org/10.1073/pnas.0902340106
[ Send to a Friend | Rate this Article ]
---
The plant hormone auxin is implicated as the morphogen that is responsible for egg production in plants, says the report published in the Science on-line Science Express. Venkatesan Sundaresan, the UC Davis professor of plant biology and plant sciences who led the study highlights the research results as "the plant triggers auxin synthesis at one end of the female reproductive unit called the embryo sac, creating an auxin gradient. The eight nuclei in the sac are then exposed to different levels of auxin, but only the nucleus in the correct position in the gradient becomes an egg cell. And that cell is subsequently fertilized to make the next generation."
This discovery shows that the development of the embryo sac could be the key element in the evolution from gymnosperms (naked seed formers) to flowering plants, the angiosperms. It thus supports the modular theory that the first angiosperms underwent a drastic reduction of the female reproductive unit allowing them to reproduce more efficiently and successfully.
For details, see the press release at: http://www.news.ucdavis.edu/search/news_detail.lasso?id=9142. The abstract is available at: http://www.sciencemag.org/cgi/content/abstract/1167324
Document Reminders
Co-Extra, an EU initiative on the co-existence and traceability of GM and non-GM supply chains, has published the final results of four years of scientific research on the management of GMO and non-GMO production and their derivates. More than 100 abstracts, covering topics such as methods for managing gene flow, detection of GM ingredients in foods and feeds, legal, liability and redress issues and technologies for managing the supply chain, are included in the document. Experiences of non-EU countries, particularly from the developing world, on co-existence and traceability are also highlighted.
Download the document at http://www.inra.fr/content/download/16700/276597/version/1/file/Co-Extra-Conference-Book-final-low-res.pdf
---
White Book: Genetically Modified Crops puts together the scientific opinion of Czech researchers working with genetically modified organisms. It notes that: "The history of major human discoveries shows that fundamentalistic ideology, ignorance, and greed often suppress the truth, but only for a certain period of time. This book was prepared with the desire to shorten the period of false apprehension of GM crops in Europe."
Editors František Sehnal, Director, Biology Centre of the Academy of Sciences of the Czech Republic, and Jaroslav Drobník of NGO Biotrin Praha, says that: "As with any other technology, the deployment of GM crops will bring benefits with minimal negative effects when used in a rational, scientifically designed way. We hope that this White Book will encourage the politicians as well as the general public to accept this objective viewpoint."
The full book is downloadable at http://www.bc.cas.cz/doc/mobitag/White-Book-on-GMO.pdf