News
Africa
Cairo University students under the BSc Biotechnology program launched the Scientific Square Radio (SSR). It is the first scientific radio station in Egypt and is located at the Central Library, Faculty of Agriculture, Cairo University. Prof. Naglaa Abdallah, Coordinator of the BSc Biotechnology program and Director of the Egypt Biotechnology Information Center (EBIC) highly supported the initiative. EBIC, a non-profit organization disseminating factual scientific information to different sectors including decision makers, sponsors SSR.
The main mission of the radio station is to raise scientific awareness by simplifying science to reach people from different categories, including non-scientific people. Science students from different Egyptian universities are involved to cover as many scientific branches as possible. SSR is the media voice for science to deliver the correct information to decision makers and the public. The SSR program covers activities such as the conduct of scientific conferences, interviews with pioneer scientists, decision makers and the general public, as well as partnering with the media. It will help students to chose their future career and understand different fields of science. The main language of the program is Arabic to reach people not only from Egypt but from other Arabic countries.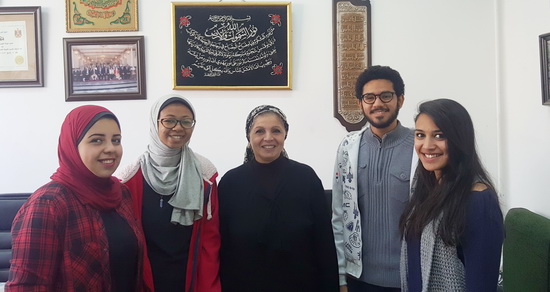 For more information about Scientific Square Radio, visit their FB page or contact Prof. Naglaa Abdallah at naglaa.abdallah@agr.cu.edu.eg.
[ Send to a Friend | Rate this Article ]
---
"Let us endeavor to reach the frontiers of science like biotechnology, information and communication technology, short of which, Uganda will be left behind as it happened with the green revolution of the 60s and 70s." This was revealed by Uganda's Prime Minister, Rt. Hon. Ruhakana Rugunda, in his speech read for him by the Minister of Agriculture, Animal Industry, and Fisheries, Hon. Vincent Ssempijja while officially opening the National Agricultural Research Organization-Makerere University (NARO-MAK) Joint Agricultural Dissemination. The conference was held from November 21-24, 2016 at Speke Resort Munyonyo, Kampala. Hon. Rugunda's remarks come at a time when Uganda is yet to pass the National Biotechnology and Biosafety Bill into law, to regulate development and application of modern biotechnology. Currently, researchers at NARO-Uganda's public agricultural research body, are using biotechnology to develop better crop varieties. However, these innovations cannot be enjoyed by the Ugandan public in the absence of the requisite legal framework.
The Prime Minister challenged the delegates to come up with a concise 'Conference Declaration' for action and follow up by Government through his (Premier's) office and the Ministry of Agriculture.
Under the theme "Agricultural Research and Innovation for Socio-Economic Transformation," the Conference was attended by over 400 local, regional and international delegates from agriculture, environment and health research, regulatory agencies, academia, media, farmers' representatives, legislators, and private sector among others. Participants shared experiences and discussed a spectrum of issues pertaining to the wide-ranging agricultural research and development efforts underway within the country and internationally.
Key on the conference agenda was the role and potential of ongoing research efforts in agriculture to propel Uganda's economy to middle income status by 2020 in line with the national development plan. Through a series of presentations and exhibitions, researchers and private sector players shared fundamental findings and cutting edge innovations to address various development constraints such as national and global food insecurity and climate change. One of the key recommendations from the conference was to expedite passing of the National Biotechnology and Biosafety Bill into law to allow famers' access to novel agricultural innovations to enable them to overcome their production constraints and ultimately raise incomes.

For more information on this, please contact the UBIC Coordinator at ubic.nacrri@gmail.com.
[ Send to a Friend | Rate this Article ]
---
Ethiopia is ready to commercialize Bt cotton in two years, according to Dr. Endale Gebre, director of the agricultural biotechnology unit in the Ethiopian Agricultural Research Institute. He explained that the confined field trial of Bt cotton in their country is currently in the final stage. The trials have been conducted for four years, testing four varieties of Bt cotton from India and Sudan. He added that the results of the field trial will determine the impact of Bt cotton on yield, bollworm infestation, herbicide-use, and other farm inputs.
Gebre also explained that Bt cotton has been criticized for about two decades. However, Bt cotton has been widely used in India, particularly by 95 percent of the smallholder farmers. This implies that Bt cotton could also bring positive benefits not just to Ethiopian farmers, but also to their economy in general. Gebre was part of the African delegation who visited Bt cotton farms in India in November 2016.
Read the original article in Africa Business Communities.
Americas
In a paper published in the November 14 issue of Proceedings of the National Academy of Sciences, scientists at Washington University in St. Louis report that the enzyme GH3.5 can control the levels of two plant hormones, auxin and salicylic acid. GH3.5 is the first enzyme of its kind known to control completely different classes of hormones.
Auxin controls various plant responses, including cell and tissue growth and development, while salicylic acid helps plants respond to infections, which often affects growth. Plants must carefully control the levels of auxin and salicylic acid to properly grow and react to new threats. To find out how GH3.5 controls multiple hormones, the researchers induced plants to accumulate large amounts of the protein and then measured their levels of hormones. When GH3.5 was expressed at high levels, both auxin and salicylic acid were reduced. Without auxin, the plants stayed small and stunted.
To prove that GH3.5 regulates distinct classes of hormones, the research team crystallized GH3.5. The researchers fired powerful X-rays into the protein crystal, and the diffraction of the X-rays provided information about the atom-by-atom structure of the enzyme. They found that the part of the enzyme that binds and modifies hormones looked almost identical to related enzymes that can only modify auxin.
For more details, read the news release at Washington University in St. Louis website.
Asia and the Pacific
The Office of the Gene Technology Regulator (OGTR) has received a license application (DIR 151) from Commonwealth Scientific and Industrial Research Organisation (CSIRO) for field trial of wheat genetically modified for disease resistance, drought tolerance, altered oil content and altered grain composition.
The trial is proposed to take place at two sites of up to 1 hectare each in Australian Capital Territory and New South Wales between May 2017 and May 2022. It would be subject to control measures restricting the spread and persistence of GM plants and their introduced genetic material. The GM wheat would not be used for human food or animal feed.
OGTR is preparing a Risk Assessment and Risk Management Plan for the application which would be released for public comment and further advice from experts, agencies, and authorities in February 2017. There will be at least 30 days allowed for submission of comments.
For more information, including the notice of application, questions and answers, and summary of the license application, visit the DIR 151 page on the OGTR website.
Europe
An international research team has identified the mechanism by which sorghum uses the compound dhurrin to ward off pests and herbivores. Previous studies have found that sorghum releases chemicals when attacked by pests, or plant eaters. Dhurrin is one such chemical, which turns into cyanide when hydrolyzed. It is classified as one of a type of complexes known as metabolons — temporary complexes formed between enzymes in a metabolic pathway. In their research, the researchers learned more about the general nature of such complexes by studying what happens when sorghum plants are attacked.
The team isolated dhurrin samples from endoplasmic reticulum using a recently developed technique. They identified four of the players involved in converting an amino acid to dhurrin. One of them was a protein that served as an electron donor; two others were proteins that triggered the process, and the fourth was an enzyme that helped the other transactions take place. They noted that all four proteins performed in concert to convert an amino acid called L-tyrosine to dhurrin, and found that the membrane itself was a critical part of the metabolon character.
For more details, read the paper in Science.
Research
Scientists from Goethe University Frankfurt and partners developed genetically engineered maize to produce a carotenoid called astaxanthin, which is important in fish feeds. The astaxanthin from the GE maize was assessed if it could be used as a feed supplement to improve pigmentation of rainbow trout flesh. The initial preparation was too oily and the concentration was not enough leading the researchers to improve the preparation through a series of processing.
The improved anyaxanthin prepapration was tested in trout through feeding trials. Results of the trials showed that the pigmentation properties of the maize-produced astaxanthin incorporated to 3.5 µg/g dw in the trout fillet is similar to chemically synthesized astaxanthin. This implies that GE maize could be a good source of naturally produced astaxanthin for fish feed.
Read the research article in Transgenic Research.
[ Send to a Friend | Rate this Article ]
---
Plant terpene synthase genes (TPSs) have various roles in biological processes. University of Tennessee's Jingyu Lin, together with researchers from various research institutions worldwide, characterized a member of the soybean TPS gene family, GmAFS. The team also studied the role of GmAFS in defense against nematodes and insects of soybean (Glycine max).
GmAFS was found to be closely related to (E,E)-α-farnesene synthase gene from apple. The expression of GmAFS in a soybean cyst nematode-resistant variety was significantly induced by the infection. However, its expression in a SCN-susceptible soybean was not changed by the same infection. Transgenic hairy roots overexpressing GmAFS were generated in an SCN-susceptible soybean line to test its role. The transgenic lines showed significantly higher resistance to SCN, indicating that GmAFS contributes to SCN resistance.
In soybean leaves, the expression of GmAFS was found to be induced by Tetranychus urticae (two-spotted spider mites) as well as exogenous application of methyl jasmonate. Further analysis revealed that soybean plants infested with T. urticae emit a mixture of volatiles with (E,E)-α-farnesene as one of the most abundant components.
This study reveals the GmAFS defense roles in both below-ground and aboveground organs of soybean.
For more information, read the article in Plant Biotechnology Journal.
New Breeding Technologies
Genome editing opens unique opportunities for plant breeders to enhance crop production. The advent of RNA-guided engineered nucleases, such as CRISPR/Cas9 system holds great potential since it is simple and effective. CRISPR/Cas9 system has already been successful in several crop plants. However, the use of this technique is in its infant stage in sugarcane (Saccharum sp.).
The study of Chakravarthi Mohan from the Federal University of Sao Carlos in Brazil, reviews the use of CRISPR/Cas9 system in the improvement of sugarcane. To date, the only report on genome editing on sugarcane is about the reduction of lignin content to make it suitable for biofuel production.
One requirement for genome editing is the availability of genomic resources to design specific gRNAs and target genes with known functions. However, the sugarcane genome is not yet deciphered and the genomic resources are limited in sugarcane. Furthermore, the functions of over 10,000 sugarcane coding genes are yet to be discovered.
This study also discusses other challenges, including large genome size, polyploidy, low transformation efficiency, transgene silencing, and lack of screening techniques that may hinder genome editing in sugarcane.
For more information on this study, read the article in Frontiers in Plant Science.
[ Send to a Friend | Rate this Article ]
---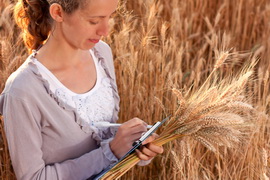 Genome editing techniques, such as CRISPR/Cas9 system, can achieve transgene-free gene modifications and is expected to generate a wide range of plants. However, the public perception against GMOs suggests that people will initially be hesitant to accept these plants.
Tetsuya Ishii and Motoko Araki from Hokkaido University in Japan explored the bottlenecks of consumer acceptance of transgene-free food crops developed through genome editing and made recommendations. People should not pursue a zero-risk bias regarding such crops. Developers should also aim to produce cultivars with traits that would satisfy consumer needs, aside from those for farmers only.
Moreover, developers must also investigate off-target mutations in resultant plants and initially refrain from multiplex genome editing. In terms of regulation, the government should consider their status and establish appropriate regulations. The government should also promote communication between the public and developers.
If people are knowledgeable of the benefits of genome-edited plants and trust in the regulations, then transgene-free crops could gradually be integrated into our society.
For more on this study, read the article in Plant Cell Reports.
Beyond Crop Biotech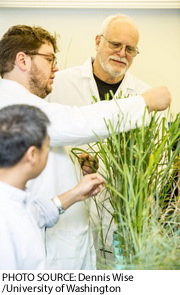 Explosives and munitions used in military bases leave behind toxic compounds, contaminating millions of acres of U.S. military bases with an estimated cleanup bill ranging between US$16 billion and US$165 billion.
Researchers from University of Washington and University of York have engineered new transgenic grasses that can neutralize and eradicate RDX, a toxic compound that has been widely used in explosives since World War II. The engineers introduced two genes from bacteria that learned to eat RDX and break it down into harmless components in two perennial grass species: switchgrass (Panicum virgatum) and creeping bentgrass (Agrostis stolonifera).
In the first reported demonstration of genetically engineered grasses to remove contamination from the environment, the best-performing strains removed all the RDX from a simulated soil in which they were grown within less than two weeks, without retaining any of the toxic chemical in their leaves or stems.
For more details, read the news release from the University of Washington website.
Announcements
What: Plant Genomics and Gene Editing Congress
Where: Beurs van Berlage, Amsterdam, The Netherlands
When: March 16-17, 2016
For other details, visit the event website.
From The BICs
ISAAA and SEARCA Biotechnology Information Center held a bag design-making contest on biotechnology titled Tote-ally Biotech. The contest aimed to encourage students to know more about biotechnology and apply their learnings in creatively crafted designs for cloth bags. The awarding ceremony was held on November 25, 2016 during the closing ceremony of the Philippine National Biotech Week 2016 in Quezon City, Philippines.
For the high school level, Abigail Grace Tamayo of Divine Light Academy School took won the first place and took home a certificate and PHP10,000 (USD200). The second and third place winners were Leedor John Abrenica of San Pablo Colleges and Vimarie China Bidon of the Lyceum of the Philippines, respectively.
Nina Kate Jingco, a BS Agricultural Biotechnology student of the University of the Philippines Los Baños (UPLB) bagged the first prize taking home a certificate and PHP17,600 (USD352). The second and third place spots were also given to UPLB students Myka Kathia Barcena and John Albert Caraan.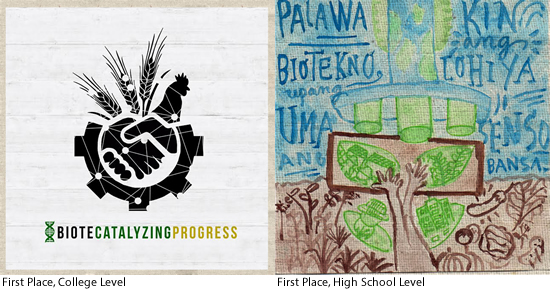 For more information about biotechnology developments in the Philippines, visit the SEARCA BIC website.
---
The National Crops Resources Research Institute (NaCRRI) hosted the African Biosafety Network of Expertise (ABNE) Technical Advisory Committee at its campus at Namulonge on November 18, 2016.
The purpose of the TAC visit at NaCRRI was to explore the human, infrastructural and equipment capacity for the development of biotech products and for biosafety compliance especially in conducting safety assessment tests. TAC was also keen to see the progress with GM crop development and testing at NaCRRI and identify capacity gaps for ABNE's appropriate action.
The visit by TAC came at an opportune moment as the country looks into strengthening its biosafety capacity prior to the commercialization of GM crops.
Strengthening capacity in biosafety will be a fundamental boost to NaCRRI, a regional leader in crop biotech research, and offer much needed impetus to advance on-going modern agriculture research and development at the institute to ensure national food security.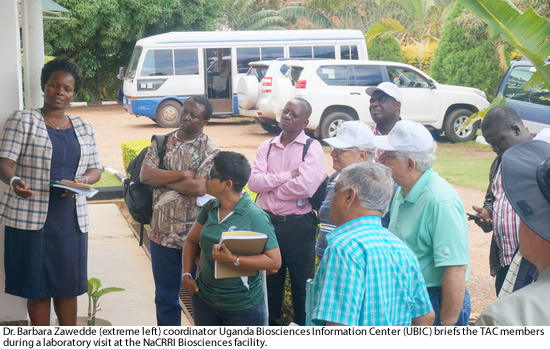 For more information, contact the UBIC Coordinator at ubic.nacrri@gmail.com.
---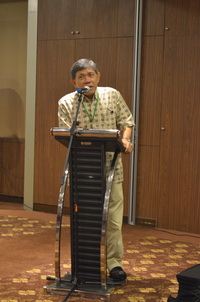 Over 80 policy makers, members of the academe, government, industry representatives and other stakeholders attended the seminar on Socialization of Food and Feed Safety Assessment of Genetically Engineered Product on November 14, 2016 at Salak Tower Hotel, Bogor, Indonesia.
Chairman of Indonesia Biosafety Commission, Agus Pakpahan, expected that through the seminar, Indonesia stakeholders would be well-informed about the assessment process of biotech products in Indonesia. The regulations are made to minimize the risks and uncertainty. Ms. Yusra Egayanti of the National Agency of Drug and Food Control (NA-DFC) gave an overview of the Food Safety Regulation in Indonesia and Ms. Bess Tiesnamurthi, Head of Indonesian Center for Animal Research and Development (ICARD) introduced the new Indonesia regulatory system for feed safety to the public. Meanwhile Ms. Bahagiawati of Indonesian Center for Agricultural Biotechnology and Genetic Resources Research and Development (ICABIOGRAD) discussed issues and facts about biotech products in response to black campaigns in social media recently. After the lectures, an open forum with a panel of resource persons tackled issues on the new regulation and GM crops.
The event was organized by Indonesian Biotechnology Information Centre (IndoBIC), in collaboration with the Ministry of Agriculture and the National Agency of Drug and Food Control, SEAMEO BIOTROP and International Service for the Acquisition of Agri-Biotech Applications (ISAAA). For more information about developments of biotechnology in Indonesia, contact Dewi Suryani at catleyavanda@gmail.com.