News
Global
Some 36 biotech players from 15 countries in Asia, Africa, and Europe gathered for a workshop on regulatory, scientific, and communication aspects of implementation of international agreements relevant to agri-biotechnology. The event was held on November 6-7, 2017 at Monash University, Kuala Lumpur, Malaysia. The participants include biotechnology scientists, science communicators, and representatives from public and private sectors.
Prof. Piet van der Meer, a biologist and lawyer from Ghent University and Free University of Brussels, led the discussions on the international agreements, as well as key topics such as risk assessment, socio-economic considerations, and public awareness. Perspectives from the public and private sectors were delivered by Prof. Desiree Hautea, a University of the Philippines Los Baños scientist, Dr. Felicity Keeper, Global Regulatory Manager at Bayer Australia and Dr. Lucia de Souza of the Public Research and Regulation Initiative (PRRI). Dr. Mahaletchumy Arujanan, Executive Director of Malaysian Biotechnology Information Center (MABIC), discussed the considerations in facilitating public acceptance of biotechnology.
The documentary titled Food Evolution was also shown to the public during the event. After the film showing, biotech experts, Prof. van der Meer, Dr. Randy Hautea (ISAAA Global Coordinator), Dr. Vilasni Pillai (Head of Biotechnology Department at Quest International University), Mr. Bhagirath Choudhary (South Asia Biotechnology Center Director), and Dr. Margaret Karembu (ISAAA AfriCenter Director) further explained their viewpoints on the benefits of biotechnology. Questions from the students about biotechnology were also addressed by the experts.
The event was organized by ISAAA, Monash University, MABIC, PRRI, and Ministerial Standing Committee on Scientific and Technological Cooperation of the Organization of Islamic Cooperation (COMSTECH).

For more information, send an e-mail to knowledge.center@isaaa.org.
Africa
Member countries, including 43 African nations of the International Treaty on Plant Genetic Resources for Food and Agriculture (ITPGRFA), are expected to benefit exponentially following plans by the United States to add 500,000 more samples of plant genetic material to the Treaty's Multilateral System of Access and Benefit-sharing (MLS). This emerged during the 7th session of the ITPGRFA Governing Body held from October 30 to November 3, 2017 in Kigali, Rwanda.
The Treaty's Secretary Kent Nnadozie told delegates, drawn from countries that are signatories to the Treaty, that the added samples will comprise 15,000 varieties of plant genetic material for food and agriculture. "This is exemplary of how multilateralism should work, providing access and sharing the benefits between the Contracting Parties of the International Treaty," Nnadozie said.
ITPGRFA aims at establishing a global system to provide farmers, plant breeders and scientists with access to plant genetic materials as well as recognizing the enormous contribution of farmers to the diversity of crops that feed the world. The Treaty also ensures that the recipients share benefits they derive from the use of these genetic materials with the countries where they originated. The Treaty, through MLS, currently facilitates access to genetic materials from 64 crops that include maize, rice, wheat, potato, cassava, sorghum, and banana, among others.
The resources to be added will bolster research into developing plants adapted to different environmental conditions and the impacts of climate change. This will consequently heighten efforts to fight hunger and malnutrition in developing countries.
It also emerged that French private seed sector will make an annual contribution of 175,000 Euro to the Benefit-sharing Fund of the Treaty starting this year. "This is welcome news and comes at a particularly opportune time, as we are about to launch the Fourth Call for Proposals under the Benefit-sharing Fund," Nnadozie acknowledged. "It also highlights the importance of fully participating in the International Treaty's Multilateral System of Access and Benefit-sharing by adding material into the MLS while providing regular contributions in to the Benefit-sharing Fund, which helps support farmers in developing countries," he said.
For more details, read the media releases from Food and Agriculture Organization of the United Nations.
[ Send to a Friend | Rate this Article ]
---
Wild sorghum will soon provide a reservoir for resistance genes against Striga. A research team lead by Dr. Steven Runo of the Plant Transformation Laboratory (PTL) at Kenyatta University and Professor Michael Timko of University of Virginia has identified three wild sorghum accessions resistant to Striga hermonthica (witchweed), a parasitic plant devastating cereal production in Sub-Saharan Africa.
Striga is a growing pandemic in Africa and Asia, with ability to destroy a crop with up to a 100% yield loss. Today, 300 million farmers from over 25 countries in Sub-Saharan Africa incur losses in excess of US$7 billion annually due to Striga infestation. Covering over 100 million hectares, the weed has particularly established host in key regional staple crops maize, sorghum, millet, and upland rice, greatly undermining the efforts to attain food security and economic growth.
"Witchweed literally sucks the life out of its host by siphoning out water and nutrients," says Dr. Runo. "What remains is a stunted, discolored host and inevitable death of the entire crop," he adds. In a regional collaborative research published in Frontiers in Plant Science, the team report having found potential sources of mechanical and biochemical barriers to Striga infection that could be employed in genetic improvement of cultivated sorghum. Wild sorghum immune to Striga infestation coexists with the parasite in uncultivated lands in northeastern Africa," explains Dr. Runo. "This potential offers an opportunity to pinpoint key resistance genes in wild sorghum that can be stacked in farmer preferred varieties," he said.
This study provides a potential to increase the genetic basis of cultivated sorghum with wide-reaching implications for Striga control in other cereal crops by pyramiding multiple resistance genes.
For more information on biotechnology in Africa, send an e-mail to mkarembu@isaaa.org.
Americas
An international team of breeders and genome scientists together with biologists from the University of Georgia (UGA) have sequenced the genome of garden asparagus as a model for sex chromosome evolution. This research is the first confirmation of early models on how sex chromosomes diverge within the same species.
While most flowering plants are hermaphrodites, garden asparagus plants are typically either male (XY) or female (XX). However, YY "supermales" can be produced in the greenhouse. Growers prefer all-male plants, because they live longer and do not self-seed. Breeders produce all-male XY seed by crossing an XX female with a YY supermale. Until now the differences between asparagus X and Y chromosomes are not fully understood, and breeders are unable to distinguish XY males from YY supermales without time-consuming test crosses.
Identification of genes that determine sex paved the way for the development and production of valuable hybrid asparagus plants. The research team found that as predicted, linkage of a gene necessary for male function with a gene stunting development of female organs on a small portion of the Y chromosome was the starting point for the evolution of asparagus sex chromosomes.
For more details, read the UGA Today.
[ Send to a Friend | Rate this Article ]
---
New discovery by Texas A&M AgriLife scientists gives insights about the biological circadian clock, how it regulates high water-use efficiency in some plants, and how other food plants might be improved for the same efficiency to be able to grow in conditions uninhabitable for them at present.
The team identified 1,398 transcription factors, and of these, nearly half showed time-of-day specific or diurnal gene expression patterns, which are important in uncovering genetic controls on how plants use water.
Led by Dr. Qingyi Yu, AgriLife Research associate professor, the group focused on pineapple, a water-efficient plant that uses crassulacean acid metabolism or CAM photosynthesis. They found genes regulated by the biological clock to express similarly in two tissue types of the pineapple plant: those that contribute to photosynthesis and those that do not. The finding represents a new paradigm for identifying core clock genes, Yu said. The method revealed the possible components of the circadian clock or oscillator that regulates CAM activity.
For more information, read AgriLife Today.
[ Send to a Friend | Rate this Article ]
---
Scientists from Cornell University and colleagues from other institutions have identified genes that control Vitamin E content in the maize grain.
The researchers used different types of genetic association analyses to identify 14 genes across the maize genome involved in the synthesis of vitamin E. Six genes were newly discovered to encode proteins that contribute to a class of antioxidant compounds called tocochromanols, collectively known as vitamin E. Aside from antioxidant properties, tocochromanols are associated with good heart health in humans and proper functioning in plants.
A near-complete foundation for the genetic improvement of vitamin E in maize grain and other major cereals has been established, according to Michael Gore, associate professor of plant breeding and genetics and a co-corresponding author of the study published in The Plant Cell.
For more details, read the news release from Cornell University.
[ Send to a Friend | Rate this Article ]
---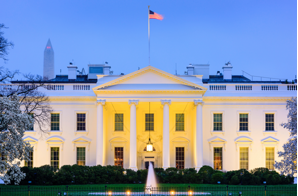 The U.S. Department of Agriculture's (USDA) Animal and Plant Health Inspection Service (APHIS) has announced it is withdrawing a proposed rule to revise the Agency's biotechnology regulations and that it will re-engage with stakeholders to determine the most effective, science-based approach for regulating the products of modern biotechnology while protecting plant health.
Agriculture Secretary Sonny Perdue said, "It's critical that our regulatory requirements foster public confidence and empower American agriculture while also providing industry with an efficient and transparent review process that doesn't restrict innovation." He added that to ensure balance, they will take a fresh look, explore policy alternatives, and continue the dialogue with all interested stakeholders, both domestic and international.
For more details, read the USDA media release.
Asia and the Pacific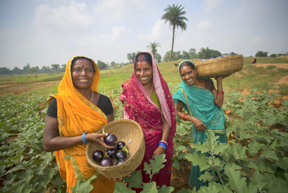 The Bangladesh government plans to give incentives to Bt brinjal farmers.
Brinjal is one of the staple vegetables in Bangladesh, as well as in other countries in the region. Bt brinjal refers to the varieties of the crop which has been enhanced to resist pest attacks. At present, there are four varieties (Bt Uttara, Bt Kajla, Bt Noyontara, and Bt ISD 006) of Bt brinjal available in Bangladesh for cultivation. During a meeting presided by Agriculture Minister Matia Chownhury, the Ministry will provide seeds and fertilizers to farmers in 64 districts to cultivate Bt brinjal next season. The plan will cost the government Tk1,630,800.
Read more from the Genetic Literacy Project.
Research
Mungbean (Vigna radiata) is a crop extensively cultivated in Southeast Asia for supply of easily digestible protein. However, salinity severely limits the growth and productivity of mungbean, while weeding poses nutritional and disease constraints to mungbean cultivation. To pyramid both salt tolerance and protection against herbicide in mungbean, Sanjeev Kumar from Indian Institute of Technology Guwahati co-expressed the AtNHX1 gene, encoding tonoplast Na+/H+ antiporter from Arabidopsis, and the bar gene, associated with herbicide resistance, in mungbean through Agrobacterium-mediated transformation.
Stress inducible expression of AtNHX1 significantly improved the tolerance to salt stress of transgenic mungbean plants compared to the wild type (WT) plants. Meanwhile, expression of bar provided resistance to herbicide. Compared to WT, transgenic mungbean plants grew better under high salt stress in the greenhouse. Transgenic plants also showed better intracellular ion homeostasis, osmoregulation, reduced cell membrane damage, improved photosynthetic capacity, and transpiration rate as compared to WT under salt stress.
This study presents a good foundation for improving mungbean yield in saline lands in Southeast Asia.
For more on this study, read the article in Frontiers in Plant Science.
New Breeding Technologies
CRISPR-Cas9 has proved to be a powerful genome-editing tool for introducing genetic changes into crop species. However, it has not yet been used to edit cassava (Manihot esculenta). To test the capacity of CRISPR-Cas9 in cassava, Donald Danforth Plant Science Center researcher John Odipio and his team targeted the phytoene desaturase (MePDS) gene in two cultivars using constructs carrying gRNAs targeting MePDS. Modification of the MePDS gene generates visually-detectable mutated events in a relatively short time frame and does not require sequencing to confirm.
After Agrobacterium-mediated delivery of CRISPR-Cas9 reagents into cassava cells, both constructs induced visible albino phenotypes within cotyledon-stage somatic embryos and plants were regenerated from there. A total of 38 lines, 19 from each cultivar, were analyzed for mutagenesis. The frequency of plant lines showing albino phenotype ranged from 90 to 100% for both cultivars. Sequence analysis revealed that all the lines examined carried mutations at the targeted MePDS site, with insertions, deletions, and substitutions recorded. The team observed minor nucleotide substitutions and or deletions upstream of the 5′ end or downstream of the 3′ targeted MePDS region.
The data reported in this study demonstrates that CRISPR-Cas9-mediated genome editing also applies to cassava, with high efficiency.
For more on this study, read the article in Frontiers in Plant Science.
[ Send to a Friend | Rate this Article ]
---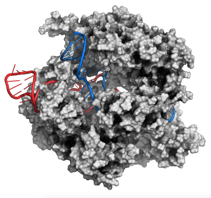 CRISPR, one of the new breeding techniques, has just gotten better. A new enzyme called Cas13 has been developed to temporarily modify RNA. This new CRISPR system called RNA Editing for Programmable A to I Replacement (REPAIR) enables targeting specific RNA letters or nucleotides involved in single-base changes. The results of the study conducted by scientists from Broad Institute of MIT and Harvard is published in Science.
CRISPR-Cas9 was developed to edit specific parts of the genome permanently. With REPAIR, scientists can target single bits of messenger RNA, which can be transient or even reversed. The edited portion may be degraded over a period of time and the modifications made in the cell will also disappear. Thus, REPAIR dispels safety concerns faced by the CRISPR-Cas9 system. It also promised a broad application for research, medicine, and biotechnology.
For more details, read the research article in Science and the news release in Vox.
Beyond Crop Biotech
Sugar apple (Annona squamosa), a popular fruit with high medicinal and nutritional properties, is widely cultivated in tropical South Asia and America. The malformed flower is a major problem for sugar apple, significantly reducing its fruit yields. However, little information is available on the differences between normal and malformed flowers of sugar apple. To study these differences, Kaidong Liu from the Lingnan Normal University in China prepared cDNA libraries from normal and malformed flowers independently for sequencing.
The data generated a total of 70,189,896 reads that were integrated and assembled into 55,097 unigenes. A large number of differentially expressed genes (DEGs) were then identified. Among these DEGs were 701 flower development-associated transcription factor encoding genes. Furthermore, a large number of flowering- and hormone-related DEGs were also identified, most of which were found to be downregulated in the malformed flowers. The malformed flowers also displayed lower hormone levels compared to the normal flowers.
The data from this research will serve as a comprehensive resource for investigating the regulation mechanism involved in flower development in sugar apple.
For more information, read the article in BMC Plant Biology.
[ Send to a Friend | Rate this Article ]
---
The genome of tulip (Tulipa gesneriana) has been sequenced by scientists from three Dutch organizations namely BaseClear, Generade, and Dümmen Orange. Cracking the genome of tulip will help scientists to breed better tulips, and produce them faster and more sustainable.
The genome of tulip is the biggest genome that has ever been sequenced. Its size is estimated at approximately 34 giga base pairs, nearly 11 times larger than that of humans. "The tulip genome makes the human genome look tiny: the entire human genome fits into one tulip chromosome," said Hans van den Heuvel, Dümmen Orange R&D director. Even if the tulip genome is huge, the sequencing which started only in May 2017, was completed in a short time. This shows that modern technologies has hasten up the sequencing of genomes, which used to take several years.
Read the original article in Horticulture Week.
Announcements
What: Genome Engineering and Synthetic Biology 3rd Edition
Where: Bruges, Belgium
When: January 25-26, 2018
For more details on registration, speakers, and program, visit the conference website.
[ Send to a Friend | Rate this Article ]
---
The National Academy of Sciences Arthur M. Sackler Colloquia on the Science of Science Communication began in 2012 with an effort to survey the state of the art of empirical social science research in science communication and focused on the communication dynamics surrounding issues in science, engineering, and medicine. The second colloquium highlighted the particular challenges with communicating about science that involves controversy, and was an important impetus for the consensus study report Communicating Science Effectively: A Research Agenda.
Evolving from past colloquia, this third colloquium will focus on the consensus study as a framework for advancing both research and practice in science communication. It will explore ways to build capacity for and foster the use of evidence-based strategies for engaging the public with science and ensuring its appropriate use.
Additional support for this colloquium is provided by The Annenberg Public Policy Center of the University of Pennsylvania, Rita Allen Foundation, Science Sandbox – a Simons Foundation initiative, William + Flora Hewlett Foundation, Gordon and Betty Moore Foundation, The Kavli Foundation, Alfred P. Sloan Foundation, Burroughs Wellcome Fund and Penn State Science Communication Program.
Sign up here to receive a link to view the live webcast. You can also follow the conversation on social media with #SacklerSciComm.