News
Global
The Cornell Alliance for Science converged in the United Nations Headquarters in New York City, on November 17 to launch a global conversation on ending world hunger. The Alliance's 25 newly graduated Global Leadership Fellows mingled with diplomats, journalists, academics, and science allies, sharing the personal stories that prompted them to embrace technological tools in the quest for food security. The Fellows, who represent 10 nations, had just completed a 12-week intensive course on science, communications, and grassroots organizing at Cornell University. They were the first cohorts in a pioneering program conceived by Cornell plant biologist Dr. Sarah Evanega and funded by the Bill & Melinda Gates Foundation.
"We must use the tools of science to end the disparity we see around the world," Evanega told the crowd of 100 persons assembled at the gala. "I'd like to work toward ensuring that every parent has the opportunity to put warm nutritious food in front of their children three times a day, and that every mother can both feed her children and send them to school."
The Fellows, who returned to their countries this week, will pursue the implementation of campaigns and communication strategies aimed at improving public understanding of the role that biotechnology and science can play in ending hunger.
Among those sharing their personal stories was Fr. Emmanuel C. Alparce of the Philippines, who said that millions of his countrymen are hungry. "I'm here because I believe biotech will improve the lives of my people, especially the farmers," he said.
Nassib Mugwanya spoke of how farmers in his home country of Uganda are suffering from hunger and economic setbacks because plant viruses are ravaging the essential cassava crop. Scientists have genetically engineered cassava to resist these viruses, but political activists have blocked its introduction. "Even though the solution is right in front of us, right within our reach, the legislative climate has not been right for farmers to have this crop on their farms," he said.

Read the original article at Cornell Alliance for Science website. For details, contact Dr. Sarah Davidson Evanega at snd2@cornell.edu.
Africa
Delegates of a recently concluded study tour to Sudan have learnt that political good will is a key factor in ensuring acceptance of biotech crop commercialization in countries from the COMESA region. Participants to the 7- day long tour, held on November 8-13, 2015, acknowledged that progress made by Sudanese cotton sub sector was a result of strong commitment by the Sudanese government. This they learnt, helped ensure farmers would adopt and reap benefits from the insect resistant cotton (Bt cotton). Participants visited farmers from irrigated cotton areas of New Halfa Agricultural Corporation (NHAC) and Rahad Schemes, in Central Sudan, and held talks with government officials, scientists and other stakeholders from the Sudanese cotton sub sector.
According to farmers visited, Bt cotton adoption in Sudan, since 2012, has considerably contributed to reducing the African boll worms menace. ''Previously, I could only harvest 50% of the bolls as the rest were lost to bollworm damage. Now I happily harvest all the bolls," said Mr. Ibrahim Ahmed, a cotton farmer in Rahad Irrigation scheme, Central Sudan.
The study tour was organized by the Alliance for Commodity Trade in Eastern and Southern Africa (ACTESA/ COMESA) in collaboration with the National Biosafety Council of Sudan, and Ministry of Environment, Forestry and Physical Construction. It involved regulators, researchers and journalists from Egypt, Ethiopia, Kenya, Malawi, Swaziland, Zambia, and Zimbabwe.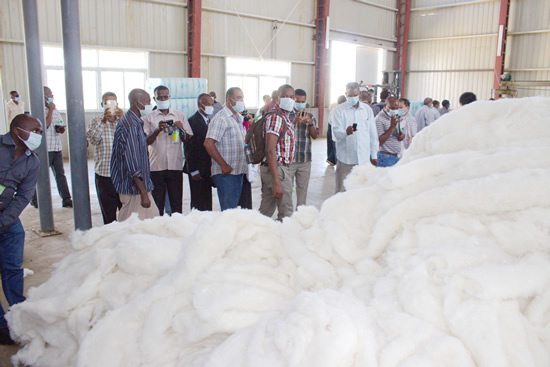 For more information, contact Dr. Getachew Belay at gbelay@comesa.int.
Americas
A new study conducted by scientists from Iowa State University (ISU) shows that a gene found only in Arabidopsis can increase the protein content of staple crops. The gene regulates the protein content in Arabidopsis seeds and leaves, and the research team calls it an 'orphan gene' because it is not present in the genome of any other organism.
The researchers showed that the orphan gene works in rice, corn, and soybeans. Ling Li, ISU adjunct assistant professor of genetics, development and cell biology said, "Most of the world relies on plants as a major protein resource. And protein that comes from animal sources requires more water, energy and resources to produce, so a diet that relies more on protein-heavy plants is more sustainable."
For more details, read the news release from Iowa State University.
[ Send to a Friend | Rate this Article ]
---
Colorado State University scientists have created an integrated circuit for plants that are similar to those found in an iPhone. 'Gene circuits,' a product of synthetic biology, control specific plant characteristics such as color, size, and resistance to drought. While traditional plant genetic engineering involves inserting or modifying genes that control certain characteristics, plant synthetic biologists are taking a different approach by quantitatively analyzing gene parts to make predictable functions.
The scientists invented a method of characterizing not one or two, but hundreds of genetic circuits at a time that control plant functions. They created a blueprint for part construction – the cell parts that make up the eventual circuits and used protoplasts for the testing. Protoplasts are delicate, though, so the engineers used mathematical modeling that accounted for all the special properties of each protoplast. Carrying out intensive data analysis and simulations led them to isolate properties of single protoplasts.
For more details, read the news release from Colorado State University.
[ Send to a Friend | Rate this Article ]
---
Nature
reports the virtually complete
genome
of
Oropetium thomaeum
, which is known as the resurrection grass because of its ability to regrow after extreme drought when water becomes available. The sequencing was made possible by Donald Danforth Plant Science Center researchers and Pacific Biosciences' grant program, "Most Interesting Genome in the World."
The resurrection grass has 245 Mb genome, grows on rock outcrops in Africa and India, and is closely related to major food, feed, and bioenergy crops. The genome sequence will help researchers understand the novel
drought tolerance
mechanisms for efficient and productive agricultural land use.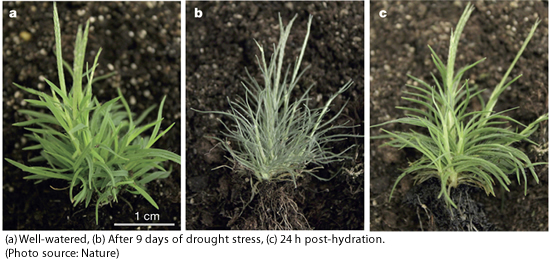 Asia and the Pacific
Elementary and high school students, as well as their parents and teachers, were enlightened and updated on the applications of modern biotechnology in agriculture and medicine during two learning events organized by the Southeast Asian Regional Center for Graduate Study and Research in Agriculture-Biotechnology Information Center (SEARCA BIC) for this year's Philippine National Biotechnology Week (NBW). The Understanding Biotechnology for High School and Elementary Students, co-organized with the National Academy of Science and Technology (NAST) and the University of the Philippines Los Baños-Institute of Plant Breeding (UPLB-IPB), involved exercises on simple DNA extraction and DNA origami, as well as presentations from local biotech scientists and researchers on the principles of genetic engineering and food and environmental safety of GMOs. The students were also quizzed on the said topics, while the science teachers were provided with the latest copies of the book "Understanding Biotechnology" by NAST Academician Dr. Evelyn Mae Mendoza.


The Healthcare Forum on Biotechnology, co-organized with the Department of Health's Food and Drug Administration (DOH-FDA) and the Program for Biosafety Systems (PBS), gathered parents, consumers, and the general public to discuss the applications, benefits, and status of modern biotech in human healthcare particularly food safety of
GMOs
, vaccines, and genetic testing for mutation-causing cancer in humans, as well as genetic counseling for cancer patients and their families.
Both activities aimed to enhance the general public's appreciation on modern biotech; they were held on November 24, 2015 at SM Dasmariñas, Cavite.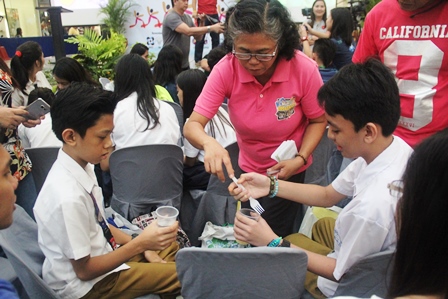 For more information about modern biotech research updates and communication efforts in the Philippines, visit
SEARCA BIC's website
.
[ Send to a Friend | Rate this Article ]
---
The Philippines celebrates the National Biotechnology Week 2015 (NBW 2015) from November 23 to 28, 2015 in SM Dasmariñas, Cavite, focusing on the theme, Biotechnology: People's Partner in National Development. The NBW 2015 is spearheaded by the Department of Science and Technology (DOST).
Engr. Mario Montejo, DOST Secretary, delivered the inspirational message, which was read by Dr. Reynaldo Ebora, Acting Executive Director of the Philippine Council for Agriculture, Aquatic and Natural Resources Research and Development. According to Engr. Montejo, biotechnology continues to be a controversy in the country, thus, there's a need to continuously open channels of communication about the issues and implications through public engagement. He also said that DOST commits to come up with policies that promote biotech innovation and development while maintaining safeguards for public health and privacy.
Dr. William Padolina, President of the National Academy of Science and Technology, delivered the keynote speech, emphasizing that agriculture must be a knowledge intensive activity to attain global competitiveness. He said that the decision to adopt biotech products relies on the government, and delaying such decision affects innovation and development, further causing poverty and suffering in the country.
"What difference are we making in the lives of these poor farmers, whom we engage in these debates? If we believe that technology can add value to the development agenda and deepen capital investments, why can we not work together? In good faith, let us have reason and informed public discussion knowing fully well that our understanding of genetics has deepen, thus challenging our traditional ideas and values. A strong partnership is needed among all sectors engaged in research and development to ensure the effective delivery of new technologies to our resource-poor farmers," said Dr. Padolina.
ISAAA also launched its latest publications: 50 Biotech Bites, Voices and Views:Why Biotech?, and Biotech Corn in the Philippines: A Country Profile.
The week-long celebration is comprised of several activities hosted by different government agencies and organizations. These include health forum, crop biotech seminar, biotech writeshop, biotech journalism awards, teachers' conference, career orientation, photo contest, among others.
The conduct of the event is in accordance with the national government policy to promote safe and responsible use of modern biotechnology and its products, as stated in Presidential Proclamation no. 1414, s. 2007.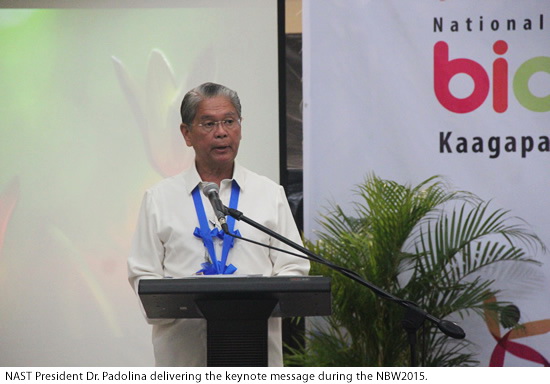 For more information about the NBW, visit the DOST website.
Europe
A research team from the Weizmann Institute of Science led by Prof. Avihai Danon has discovered the "off" switch for plant starch production. Starch is the most common carbohydrate in the human diet and present in large amounts in staple crops such as rice, potatoes, and maize.
Plants start making starch as soon as the morning light turns on its photosynthesis, and stops when photosynthesis subsides at night. Working with Arabidopsis, the team figured out the chain of biochemical events leading to its shutdown at night. The decrease in light causes a small signaling protein called ACTH4 to lose electrons and become oxidized, which, in turn, quickly prompts it to transmit the "take a break" message to the starch production enzyme.
The team also realized that the mechanism remains active at a low level throughout the day, as if the plant drives its starch production by pressing on the gas pedal and the brakes simultaneously: turning the production on while at the same time keeping it in check. When the scientists genetically engineered the plants to eliminate the "brakes," starch production shot up by nearly 20 percent. This suggests that generally, production efficiency stands at only about 80 percent because the brake pedal is on all the time.
For more details, read the news release from the Weizmann Institute of Science.
Research
Red coloration of fruit is one of the most important traits in peach (Prunus persica), and it is due to anthocyanins. Three MYB10 genes, PpMYB10.1, PpMYB10.2, and PpMYB10.3, were reported as regulators of red coloration and anthocyanin biosynthesis in peach fruit. Researchers led by Pham Anh Tuan of the NARO Institute of Fruit Tree Science in Japan studied the contribution of each MYB10 gene to anthocyanin accumulation in two Japanese peach cultivars, white-skinned 'Mochizuki' and red-skinned 'Akatsuki'.
Anthocyanin accumulation was observed only in 'Akatsuki' fruit in the late ripening stages and is correlated with high mRNA levels of UDP-glucose:flavonoid-3-O-glucosyltransferase (UFGT), the last step gene in anthocyanin accumulation. This was also correlated with the expression level of PpMYB10.1. Meanwhile, expression levels of PpMYB10.2 and PpMYB10.3 were low in the skin of both cultivars throughout fruit development.
Introduction of PpMYB10.1 into tobacco increased the expression of tobacco UFGT, resulting in higher anthocyanin accumulation and deeper red transgenic tobacco flowers. These findings contribute to clarifying the molecular mechanisms of anthocyanin accumulation and generating gene-based markers linked to skin color phenotypes.
For more information, read the article in BMC Plant Biology.
[ Send to a Friend | Rate this Article ]
---
Rice blast is the most serious disease affecting rice production. Mireia Bundó and María Coca report on the function of the isoform OsCPK4 of the rice calcium-dependent protein kinase family in the regulation of rice immunity to blast fungal infection.
Overexpression of OsCPK4 gene in rice plants enhanced its resistance to blast disease by preventing fungal penetration. The constitutive accumulation of OsCPK4 protein prepares rice plants for a rapid and increased defense response, including the production of reactive oxygen species, callose deposition and defense genes expression.
OsCPK4 overexpression also led to constitutive increased content of the glycosylated salicylic acid hormone in leaves without compromising rice yield. Since OsCPK4 overexpression was also known to confer salt and drought tolerance in rice, the results suggest that OsCPK4 acts as a component that positively modulates both biotic and abiotic signalling pathways.
These findings indicate that OsCPK4 is a potential target gene for improving biotic and abiotic stress tolerance in rice.
For more information, read the article in Plant Biotechnology Journal.
Beyond Crop Biotech
Scientists from the University of South Australia and partners
genetically engineered
an algae to specifically destroy cancer cells without affecting healthy cells. The results are published in
Nature Communications
.
Scientists Nico Voelcker and colleagues worked on a diatom to produce antibody-binding protein on the surface of their shells. Then, the antibody attaches to molecules in cancer cells to deliver drugs to target cells. "By genetically engineering diatom algae - tiny, unicellular, photosynthesizing algae with a skeleton made of nanoporous silica, we are able to produce an antibody-binding protein on the surface of their shells. Anti-cancer chemotherapeutic drugs are often toxic to normal tissues," Voelcker explains.
The study suggests that GE biosilica frustules may function as delivery systems of poorly water-soluble anticancer drugs to tumour sites.
[ Send to a Friend | Rate this Article ]
---
Scientists from the University of California Irvine and San Diego campuses have created a strain of mosquitoes capable of rapidly introducing malaria-blocking genes into a mosquito population through its progeny. The researchers inserted a DNA element into the germ line of Anopheles stephensi mosquitoes, resulting in the gene preventing malaria transmission being passed on to an astonishing 99.5 percent of offspring. A. stephensi is a leading malaria vector in Asia.
The two groups used the method for generating mutations in both copies of a gene developed by Ethan Bier and Valentino Gantz earlier this year, and fused it with their mosquitoes. Gantz packaged antimalaria genes with a Cas9 enzyme (which can cut DNA) and a guide RNA to create a genetic "cassette" that, when injected into a mosquito embryo, targeted a highly specific spot on the germ line DNA to insert the antimalaria antibody genes.
To ensure that the element carrying the malaria-blocking antibodies had reached the desired DNA site, the researchers included in the cassette a protein that gave the progeny red fluorescence in the eyes. Almost 100 percent of offspring – 99.5 percent, to be exact – exhibited this trait, which James said is an amazing result for such a system that can change inheritable traits.
For more details, read the news release from the University of California Irvine.
[ Send to a Friend | Rate this Article ]
---
Based on sound science and a comprehensive review, the US Food and Drug Administration (US-FDA) has approved AquaBounty Technologies' AquAdvantage Salmon, a genetically engineered (GE) Atlantic salmon that grows to market size more quickly than non-GE farm-raised Atlantic salmon.
The FDA determined that food from AquAdvantage Salmon is as safe to eat and as nutritious as food from other non-GE Atlantic salmon and that there are no biologically relevant differences in the nutritional profile of AquAdvantage Salmon compared to that of other farm-raised Atlantic salmon.
In a statement, Bernadette Dunham, director of the FDA's Center for Veterinary Medicine said, "The F.D.A. has thoroughly analyzed and evaluated the data and information submitted by AquaBounty regarding the AquAdvantage salmon and determined that they have met the regulatory requirements for approval, including that food from the fish is safe to eat."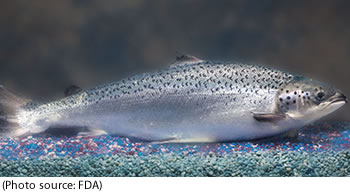 For more information, read the FDA news release.
Announcements
What: 27th Annual Conference of the Independent Professional Seed Association (IPSA)
When: January 11-13, 2015
Where: Missouri, U.S.
From The BICs
To strengthen ISAAA's capacity to assist countries in developing, implementing, and reviewing biosafety regulations, ISAAA held an immersion training-seminar in collaboration with the Public Research and Regulation Initiative (PRRI), the Ghent University, and the Free University of Brussels, Belgium in Kula Lumpur, Malaysia on November 16 to 18, 2015.
The seminar addressed in-depth a range of scientific and regulatory topics ranging from risk assessment and management; public awareness and participation; regulatory mechanisms for emerging techniques such as synthetic biology and gene editing; food and feed safety; monitoring, enforcement and detection; and review and assessment.
The workshop was attended by ISAAA biotechnology information network representatives from
Malaysia
,
Indonesia
,
Philippines
,
Pakistan
,
Egypt
, and
Kenya
. ISAAA also extended the invitation to partners in Vietnam, Uganda, Burkina Faso, and Singapore.
The event was organized by the Malaysian Biotechnology Information Center (MABIC) and supported by U.S. Department of Agriculture. Resource speakers were from Ghent University, USDA, MABIC, and ISAAA..