News
Global
The International Rice Research Institute (IRRI) added 42,627 seed samples of various types of rice in its collection kept in the Scalbard Global Seed Vault, informally called as "Doomsday Vault" because it houses "all of the world's important crop seeds that may be humanity's ultimate insurance in food security in the event of a major regional or global crisis." The conditions inside the vault would enable storage of the seeds for hundreds of years. The vault was inaugurated in February 2008 and IRRI first deposited 70,180 rice samples.
"IRRI shares seed from the IRG for free with farmers, farmers' groups, governments, universities, and others under conditions set by the International Treaty on Plant Genetics Resources for Food and Agriculture," said Dr. Ruaraidh Sackville Hamilton, head of IRRI's International Rice Genebank (IRG). "One hundred twenty-six countries signed this Treaty that ensures the fair sharing of benefits from the use of these resources."
Read the complete story at http://irri.org/news-events/media-releases/current-releases/genetic-diversity-of-rice-now-secure-in-doomsday-vault.
[ Send to a Friend | Rate this Article ]
---
Government officials of Arab countries have scheduled an Arab Regional Workshop on Biodiversity and Finance on 29-30 November 2010 to discuss national and regional responses to the outcomes of the Nagoya biodiversity summit.
The Nagoya outcomes of the 10th meeting of the Conference of the Parties (COP-10) to the Convention on Biological Diversity (CBD) include the "Nagoya Protocol on Access to Genetic Resources and the Fair and Equitable Sharing of Benefits Arising from their Utilization, the Strategic Plan for the Convention on Biological Diversity for the period 2011-2020, and a Strategy for Resource Mobilization."
These outcomes are expected to create massive efforts for biodiversity at the national, regional, and global levels. The Arab workshop is the first regional response to the Nagoya outcomes and one of the initial activities in the Arab region in support of their implementation. The workshop has been initiated by the Technical Secretariat of the Council of Arab Ministers Responsible for the Environment (CAMRE) of the League of Arab States in collaboration with the United Nations Environment Programme (UNEP) Regional Office for West Asia and the Secretariat of the Convention on Biological Diversity.
Read the press release at http://www.cbd.int/doc/press/2010/pr-2010-11-08-rm-en.pdf.
[ Send to a Friend | Rate this Article ]
---
Food and Agriculture Organization of the United Nations (FAO) Director-General Jacques Diouf has been awarded the Action against Hunger Humanitarian Award in recognition of his immeasurable effort to combat hunger and poverty.
The annual award is given to individuals who through their humanitarian commitment have raised public awareness to overcome emergencies.
"FAO alongside others, such as Action Against Hunger, have demonstrated through work in often insecure and challenging environments that lives can be saved while at the same time providing communities with sustainable solutions to hunger," Diouf said after receiving the award in New York.
Aside from Diouf's award, FAO's 1billionhungry project was also awarded "for engaging millions of people worldwide in combating global hunger."
Read FAO's press release at http://www.fao.org/news/story/en/item/47266/icode/.
[ Send to a Friend | Rate this Article ]
---
Three lucky subscribers of the Crop Biotech Update are the third set of winners of the Knowledge Campaign on crop biotechnology launched by the International Service for the Acquisition of Agri-biotech Applications (ISAAA). They will each get a bronze duplicate of the Dr. Norman E. Borlaug Congressional Gold Medal and are eligible for the grand draw of a netbook on December 31, 2010. Three medals will be drawn every week until the end of the year. This week's winners are Sohail Iqbal Rana of ISU, Pakistan, Eduardo Aejandro Altamirano Arguello of La Nueva Siembra S.A. de C.V., Mexico, and Josie Lynn Catindig of the International Rice Research Institute, Philippines.
One of the first medal recipients is Dr. Jaine Reyes of the Philippines (shown in the photo holding the Borlaug medal). In an email, Dr. Reyes said "Congratulations to the organizers of this promotional campaign since my students and other subscribers in my various e-groups are appreciative of the CBU url link I sent them. Although even before the campaign, I have been using information resources derived from the CBU to supplement my research, instruction and extension activities, particularly in R&D management, technology evaluation, commercialization and utilization."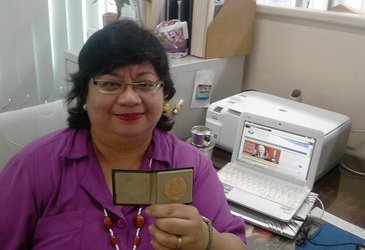 The Knowledge Campaign for "A million healing hands to help a billion hungry" is dedicated to Dr. Norman Borlaug, 1970 Nobel Peace Laureate who was the founding patron of ISAAA. With his full support and initiative, ISAAA established the Global Knowledge Center on Crop Biotechnology in 2000 in the Philippines with active nodes called Biotechnology Information Centers (BICs) in 24 countries globally. ISAAA and its global family of BICs are celebrating a decade of success in spearheading the sharing of knowledge and capacity building on crop biotechnology to help alleviate poverty in developing countries. ISAAA has institutionalized the sharing of knowledge on crop biotechnology by creating and distributing a weekly email-based newsletter Crop Biotech Update (CBU) which summarizes the latest world developments in agriculture, food and crop biotechnology relevant to developing countries. CBU is now distributed to over 850,000 subscribers in 200 countries and the campaign hopes to up the figures to 1 Million by December 31, 2010. ISAAA urges people participation by simply enrolling, without cost or obligation, 1 to 5 email addresses, or preferably more, of their co-professionals, and colleagues including students until December 31, 2010. To participate, log on to ISAAA Knowledge Campaign at http://www.isaaa.org/kc/cropbiotechupdate/invitepromo/cbu-promo,asp.
[ Send to a Friend | Rate this Article ]
---
More than 1,700 top rice scientists, researchers, policymakers, and industry representatives from 66 countries are attending the 3rd International Rice Congress (IRC2010) in Hanoi which starts November 8 and ends on November 12. The holding of IRC 2010 is an opportune time to address various challenges in the rice industry, especially the pressure of price hike, production volume, as well as environmental issues such as climate change and water shortage. Farmers need outmost support to fulfill their role in feeding billions that depend on rice.
"It's particularly appropriate that Vietnam has generously agreed to host IRC2010," said Dr. Robert S. Zeigler, the director general of the International Rice Research Institute (IRRI) and executive chairman of the IRC2010 Steering Committee. "Vietnam's adoption and adaptation of rice technologies have helped it become a major rice exporter and the country is an example of how rice science can benefit a nation and its people."
Vietnamese Prime Minister Nguyen Tan Dung granted IRRI with First Class Friendship Order, one of the highest honors Vietnam bestows on an international organization.
Read more at http://irri.org/news-events/media-releases/current-releases/global-rice-experts-meet-at-3rd-international-rice-congress-in-hanoi.
Africa
Researchers at Namulonge in Uganda are working on the biofortification of cassava by developing new varieties with high levels of beta carotene, which converts into vitamin A upon consumption. These new varieties are also resistant to cassava mosaic disease.
"We have over 20 clones that have different colors beginning from light yellow to pink or deep orange cassava. The intensity of color reflects the quantity of carotene," says Dr. Robert Kawuki, a cassava breeder at Namulonge.
The yellow cassava varieties used for breeding were from Latin America, where the crop originated. The research started three years ago and is expected to finish after another three years. It is a long-time process because of the rigorous evaluation and selection stages being conducted. The project hopes to produce varieties that would most-likely be adopted by the farmers, and decrease the prevalent health problem of vitamin A deficiency in Uganda. The research is under the National Cassava Research Programme.
For more details, visit http://allafrica.com/stories/201011070241.html.
[ Send to a Friend | Rate this Article ]
---
Public awareness and acceptance on agricultural biotechnology continuous to improve as products of agricultural biotechnology and biotech regulatory policies move forward in Africa. This was shared by Dr. Margaret Karembu, Director of the International Service for the Acquisition of Agri-biotech Applications (ISAAA) AfriCenter, in a Special Seminar held at the SEAMEO Regional Center for Graduate Study and Research in Agriculture (SEARCA), Los Baños, Philippines last October 27, 2010. African farmers appreciate agricultural biotechnology products, and are ready to be involved when they are introduced to something that could improve their lives, said Dr. Karembu.
Africa has initiated "harmonization" of their biosafety policies through the Regional Economic Communities (REC) exemplified by forming the Regional Approach to Biotechnology and Biosafety Policies in Eastern and Southern Africa (RABESA), which covers 19 member states. The RABESA has helped tailor fit biosafety policies to the different countries based on identified priority areas which are the commercial planting, commercial trade policy, and emergency food aid access to GM crops and GM produces. Dr. Karembu reported that at present, 12 countries in Africa have already developed National Biosafety Frameworks (NBFs), while 11 have interim NBFs.
According to Dr. Karembu, the factors that would determine the future of biotechnology in Africa include: a proactive policy where priorities are identified and decisions are suited for Africa's needs; an efficient and cost effective biosafety system that would effectively assess biotechnologies; scientific capacity buildings; an IPR regime to encourage private small seeds companies to invest in the technology; and public awareness and acceptance initiatives that build on credible and evidence-based communication.
For more information about the seminar, visit http://www.bic.searca.org or email bic@agri.searca.org
Americas
Researchers at Kansas State University were awarded a patent for their invention entitled Compositions and Methods for Controlling Plant Parasitic Nematodes. The team developed a transgenic strategy to fight off the destructive soybean cyst nematode which can cause up to US$860 million losses annually.
By targeting three genes, namely MSP, or Major Sperm Protein, which causes nematode sperm to move; Chitin synthase, the gene that helps form the eggshell on nematode offspring; and RNA Polymerase II, which is vital for RNA production, the researchers were able to reduce nematode reproduction by 68 to 70 percent. The team also made sure that the altered genes could not affect the soybeans and non target organisms such as animals and humans.
Details of the Report can be seen at http://www.k-state.edu/media/newsreleases/nov10/patent110810.html
[ Send to a Friend | Rate this Article ]
---
The Plant Variety Protection Act provides legal protection in the form of intellectual property rights to developers of new varieties of plants. "A certificate of protection is awarded to an owner of a crop variety after an examination shows that it is new, distinct from other varieties, and genetically uniform and stable through successive generations," said Administrator Rayne Pegg, Agricultural Marketing Service (AMS). The US Department of Agriculture has recently issued certificates of protection to developers of 15 new varieties of seed-produced and tuber-propagated plants including brome, buffalo grass and potato.
Details of the specific varieties and their developers can be seen at http://www.ams.usda.gov/AMSv1.0/ams.fetchTemplateData.do?template=TemplateU
&navID=LatestReleases&page=Newsroom&topNav=Newsroom&leftNav=&rightNav1=LatestReleases
&rightNav2=&resultType=Details&dDocName=STELPRDC5087563&dID=140140&wf=false&description=
USDA+Grants+Protection+to+15+New+Plant+Varieties+
[ Send to a Friend | Rate this Article ]
---
"We've engineered a new metabolic pathway in plants for producing a kind of fatty acid that could be used as a source of precursors to chemical building blocks for making plastics such as polyethylene," said Brookhaven biochemist John Shanklin of the U.S. Department of Energy in collaboration with Dow AgroSciences.
The report published in the online edition of Plant Physiology describes how in many series of metabolic pathway experiments and search of a model gene receiving plant, the scientists were able to produce the desired omega-7 fatty acid at 71 percent level in the best expressing Arabidopsis line. In summary, the researchers "down-regulated" genes that compete for the introduced enzyme's fatty acid substrate and also introduced desaturases capable of intercepting substrate that had escaped the first desaturase enzyme as it progressed through the oil-accumulation pathway, the news article said.
For more information on the report see http://www.bnl.gov/bnlweb/pubaf/pr/PR_display.asp?prID=1186
[ Send to a Friend | Rate this Article ]
---
Dr. William H. Danforth, chairman of the Board of Trustees of the Donald Danforth Plant Science Center has announced that the next president of the Center is Dr. James C. Carrington starting on 11 May 2011. Dr. Carrington is currently the Director of the Center for Genome Research and Biocomputing (CGRB), the Stewart Professor for Gene Research, and Distinguished Professor of Botany and Plant Pathology at Oregon State University in Corvallis, Oregon.
Dr. Carrington is famous for his research on gene silencing, functions of the small ribonucleic acid (RNA), and virus-host interactions. He is also a member of the National Academy of Sciences.
Read the rest of the story at http://www.danforthcenter.org/wordpress/?page_id=115&pid=2815&banner=news_and_media/images/banner-news_and_media.jpg&side=sidebars/sidebar-news_and_media.php&nav=news.
[ Send to a Friend | Rate this Article ]
---
Market opportunities and processor-paid incentives are being offered to growers of Pioneer® brand low linolenic soybeans for the 2011 season. Through the 2011 Low Linolenic Soybean Program with Bunge Oils, a select group of Midwest elevators is offering growers expanded options to earn $0.55/bushel for harvest delivery and $0.60/bushel for buyers call for Pioneer® brand low linolenic soybeans. The elevators include key areas in Illinois, Indiana, Iowa, Michigan, New York, Ohio, and Pennsylvania.
"With food companies looking for zero gram trans fat alternatives that preserve flavor and shelf life, the market for low linolenic soybeans continues providing contracting opportunities for growers," says John Muenzenberger, Pioneer senior business manager for soybean output traits. "At the same time, Pioneer has provided a strong low linolenic soybean lineup to help growers meet that demand."
Along with providing better opportunities for soybean growers, Pioneer is also introducing the Y series of low linolenic soybean varieties, which have key agronomic traits and the Roundup Ready® gene.
For more information, visit http://www.pioneer.com/web/site/portal/menuitem.4999e68fba44541389108910d10093a0/.
Asia and the Pacific
As a way to meet the needs for human resource development on biotechnology and sustain and enhance interest on agri-biotech research and development, the University of the Philippines Los Baños (UPLB) has started offering a Bachelor of Science in Agricultural Biotechnology this school year. Dr. Luis Rey Velasco, UPLB Chancellor, recognized biotechnology as an important tool in agriculture development, sustainable farming and in developing crop varieties that can adapt to the changing climate.
Dr. Velasco wants students to have a background in both biotechnology and agriculture. The new undergraduate degree program will be interdisciplinary in nature and will also promote cooperation in teaching and research; sharing of resources and encouraging scientific innovativeness; bioentrepreneurship; and socio-economic awareness among students, faculty and staff. He intends to expand the course to other promising fields where biotechnology plays important interventions, such as food technology, animal science, and crop protection, and not just on plant breeding.
Biotechnology is one of the key Programs of the University and it has been offering advanced graduate degree programs in molecular biology and biotechnology as early as 1991. The new undergraduate degree program aims to upgrade the biotech education to meet the needs of the current agriculture situation in the country.
For related article visit http://www.biotechforlife.com.ph/news_uplb.htm. For updates on biotech developments in the Philippines, visit http://www.bic.searca.org or email bic@agri.searca.org.
[ Send to a Friend | Rate this Article ]
---
Dr. Jennifer Thompson, Emeritus Professor at the University of Cape Town (UCT), South Africa, shared the status and development of agricultural biotechnology in South and sub-Saharan Africa in a seminar held last October 27, 2010 at SEARCA, Los Baños, Laguna, Philippines. Drought tolerant maize, virus resistant maize, insect resistant potato, and nutritionally enhanced sorghum are crops currently being improved through genetic modification in South Africa. Prof. Thompson is hopeful that these crops would be commercialized in the future.
Prof. Thompson's team at UCT is working on drought tolerant maize, to be tested with genes from a "resurrection plant" which can survive months in a dehydrated state and come back to life in 72 hours once exposed to water. Another project addressing drought tolerance for maize is the Water Efficient Maize for Africa or WEMA. The WEMA is a public-private partnership project that aims to bring royalty-free drought tolerant maize varieties to farmers of sub-Saharan Africa.
In addition, Prof. Thompson and her team are also developing maize resistant to the maize streak virus (MSV) using replicase genes. She reported that MSV is endemic to Africa, and has caused huge economic losses to both commercial and small scale farmers. Development of the virus-resistant maize will be beneficial to the entire African region.
For more details about the seminar, visit http://www.bic.searca.org or email bic@agri.searca.org
[ Send to a Friend | Rate this Article ]
---
Hon. Yafesh Osman, Bangladesh Minister for Science and Information and Communication Technology, has urged university teachers and students to uplift the level of modern science emphasizing biotechnology in particular to combat climate change in achieving food security. He gave this remark during the inauguration of the daylong seminar entitled Climate change and food security in Bangladesh at Bangladesh Agricultural University. The seminar was organized by PhD Fellows' Association on November 4, 2010 for research students and faculty.
The minister informed the audience of the Government's activities for human and infrastructure capacity building for biotechnology and other modern sciences. Professor Dr. M. A. Sattar Mondal, Vice Chancellor, Bangladesh Agricultural University and three Members of the parliament and syndicate members also made their statements echoing the need to develop resistant crops against biotic and abiotic stresses to meet the food gap.
For more developments on crop biotechnology in Bangladesh email Dr. Khondoker Nasiruddin at nasirbiotech@yahoo.com
[ Send to a Friend | Rate this Article ]
---
In a round-table discussion on Public Private Partnerships (PPP) entitled Creating new opportunities for private investiment in agriculture, Minister of Agriculture and Rural Development Cao Duc Phat invited private investors to conduct agricultural investments in Vietnam. The country has made numerous policies to encourage investments in rural agriculture including "exemption or reduction in land use fees by 70 percent, helping small businesses in human resource training and exempting them from import taxes on materials used in production."
A list of 28 priority fields which will enjoy preferential treatment has been released by the government that include cultivation and breeding, seafood industry, forestry, salt development, agricultural mechanization, to name a few. The Prime Minister has approved the PPP model submitted by the Ministry of Planning and Investment and is hoped to mobilize domestic and foreign private sources in various fields, including agriculture.
See the original news article at http://en.vietnamplus.vn/Home/VN-encourages-private-investment-in-agriculture/201011/13815.vnplus
[ Send to a Friend | Rate this Article ]
---
Addressing the attendees to the International Rice Congress (IRC), Prime Minister Nguyen Tan Dung said that "Vietnam is willing to cooperate and share its experiences in rice production and trade with the international community and will make active contributions to ensuring food security in the globe". "The Vietnamese Government has defined that food security in the long term and in all circumstances is one of the important contents in the country's socio-economic development cause," he added.
The IRC was also an opportune time for Vietnam to extend its gratitude to the International Rice Research Institute in recognition of its valuable assistance to Vietnam's rice farming for many years. The Prime Minister also hoped the event will provide a valuable opportunity for more than 1,000 participating scientists, managers and business people to share information and experience, boost their cooperation, as well as seek solutions to further improve rice production and trade.
For details, see the news at http://en.vietnamplus.vn/Home/Food-security-essential-to-sociopolitical-stability/201011/13767.vnplus
[ Send to a Friend | Rate this Article ]
---
In the last decade the use of internet to access materials on various fields of knowledge has seemingly reduced the importance of the library. In Vietnam however, the use of the library as an important source of agricultural information for rural folks and farmers was the focus of a workshop co-organized by the Association of Vietnam Libraries. The workshop highlighted the strategies that libraries offer to bring advanced agricultural science and technologies closer to the farmers. There were also recommendations on linkage and partnership among district and provincial libraries to expedite the knowledge sharing process.
At the workshop Mr. Le Tien - Director of Agbiotech Vietnam introduced the use of the internet in disseminating knowledge. Being a member of the international biotechnology information network of the International Service for the Acquisition of Agri-biotech Applications (ISAAA) Biotechnology Information Center, Mr. Tien guided the participants on how to access and obtain information on agricultural biotechnology in the website and how to send subscribers biotech news articles and events weekly by email.
The workshop was participated in by the media, representatives from the Information Centers of various ministries, public libraries across the country, various library staff and scientific researchers.
For information on the workshop, contact Hien Le at hientttm@yahoo.com of Agbiotech Viet.
Europe
The National Research Strategy Bioeconomy 2030 – Our path to a bio-based economy was recently approved by the German Federal Government for immediate implementation. Thomas Rachel, Parliamentary State Secretary in the Federal Ministry of Education and Research (BMBF), and Dr. Robert Kloos, State Land Economic Affairs (BMELV), stressed at the joint press conference that "We want to do research and innovation, structural change from a petroleum to a bio-based permit industry. This objective is associated with significant opportunities for growth and employment. At the same time we also take responsibility internationally for the global food, commodity and energy from biomass and for the climate and environmental protection. "

More than two billion Euros is allotted by the federal government for the next six years in research and development initiatives that would focus on the sustainable use of biological resources like plants, animals and microorganisms for various applications in agriculture, forestry, horticulture, fisheries and aquaculture, plant breeding, food and beverage, to name a few.
For more on this story, see http://www.bmelv.de/cln_182/SharedDocs/Pressemitteilungen/2010/197-RK-Forschungsvorhaben-BioOekonomie.html
[ Send to a Friend | Rate this Article ]
---
The EU-JRC has recently published a list of 79 reference methods to analyze genetically modified organism (GMOs). The compendium was developed jointly by the EU Reference Laboratory for Genetically Modified Food and Feed (EU-RL GMFF) and the European Network of GMO Laboratories (ENGL). The methods have been validated according to international standards and each method is described in a user-friendly way to cater to the needs and expertise of GMO regulators.
The reference methods can be seen and downloaded at: http://ec.europa.eu/dgs/jrc/index.cfm?id=2820&obj_id=563&dt_code=HLN&lang=en
[ Send to a Friend | Rate this Article ]
---
The fusion of two research institutes, the Scottish Crop Research Institute and Macaulay Land Use Research Institute gave birth to a "super research institute" named James Hutton Research Institute. The Institute brings together Scottish expertise in crop research, soils and land use, and will make a major contribution to the study of key global issues, such as food and energy security, biodiversity, and how climate change will affect the way we use land and grow crops, the press release said.
The Institute which will begin operations in April 2011 was named to honor James Hutton, the leading figure of the Scottish Enlightenment in the 18th century and regarded as the father of modern geology who influenced Charles Darwin in developing his theory of evolution.
To read more on this news, see http://www.scri.ac.uk/news/jameshuttoninstitute