News
Global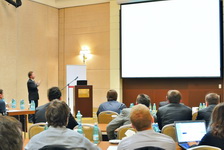 The Agricultural Biotechnology International Conference (ABIC 2014) was held on October 5-8, 2014 in Saskatchewan, Canada, attended by delegates from over 60 countries who discussed the benefits of agricultural biotechnology. The conference was hosted by Ag-West Bio, Saskatchewan's Bioscience Industry Association.
Around 42 world-renowned experts tackled various topics such as innovation for global security, strategies for agricultural innovation, and leadership for successful innovation. The keynote speaker at the conference was Julie Borlaug, Associate Director for External relations of Norman E. Borlaug Institute for International Agriculture and Dr. Borlaug's granddaughter. She presented the role of biotechnology as an integrated approach in the fight against hunger.
Ingo Potrykus, Professor Emeritus at the Swiss Federal Institute of Technology and one of the developers of Golden Rice, presented the progress and challenges faced by the biotech crop. According to Dr. Potrykus, "The technology is stable, reproducible, free of charge for the trait, applicable to all rice varieties tested so far, and it provides sufficient provitamin A from half a cup of rice to prevent vitamin A-deficiency. Optimized varieties are under development in the Philippines, Bangladesh, India, Vietnam, Indonesia, and China. Compared to traditional interventions Golden Rice is highly cost-effective and sustainable."
For more information about the conference, visit http://www.abic.ca/abic2014/index.php/abic-2014-highlights.
[ Send to a Friend | Rate this Article ]
---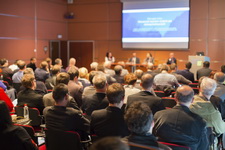 The 2014 Borlaug Dialogue international symposium opens today, October 15, until October 17, 2014 in Des Moines, Iowa. The symposium's theme is "The Greatest Challenge in Human History: Can we sustainably feed the 9 billion people in our planet by the year 2050?" focusing on the powers of intensification, innovation, and inspiration to support smallholder farmers and meet the need for nutritious food.
One of the highlights in the event is the awarding of the 40 Chances Fellowships to 4 young innovators under 40 years old, who will get US$150,000 as start-up funds to implement market and social entrepreneurship projects addressing hunger, poverty, and conflict in chosen African countries.
The Borlaug Dialogue will feature expertise and diverse views of government heads, policymakers, farmers, scientists, and leaders NGOs and private companies from around the globe. The speakers include Kanayo F. Nwanze, President of International Fund for Agricultural Development; Thomas J. Vilsack, Secretary of Agriculture of the United States; and Florence Chenoweth, Minister of Agriculture in Liberia.
For more details, visit http://www.worldfoodprize.org/index.cfm?nodeID=71721&Audienceid=1&preview=1.
Americas
Plant scientists at Georgia Institute of Technology (Georgia Tech) and Penn State University developed an automated imaging technique to measure and analyze the root systems of mature plants. The imaging and software will provide geneticists the statistical information they need to search for genes with the best characteristics.
The technique involves the use of digital photography to provide detailed image of roots from mature plants in the field. The resulting images are uploaded to a server running software that analyzes the root systems for more than 30 different parameters – such as the diameter of tap roots, root density, the angles of brace roots, and detailed measures of lateral roots. Scientists working in the field can upload their images at the end of a day and have spreadsheets of results ready for analysis the following day.
Aside from enhancing food crops, the new technique could also pave the way for improvement of plants for energy production, materials, and other purposes.
Read the original article at http://www.news.gatech.edu/2014/10/09/automated-imaging-system-looks-underground-help-improve-crops.
[ Send to a Friend | Rate this Article ]
---
In an episode of "Jimmy Kimmel Live", a TV show in the US, the TV host sent a camera crew to a local farmers market to interview consumers on their stand and understanding of genetically modified organisms (GMOs). The majority of those interviewed said that they do not want to buy GMOs because of the possible effects on their health. However, when these individuals were asked about what the letters GMO stand for, they were not able to say the correct answer, indicating lack of understanding about the issue.
Watch the video at http://www.medicaldaily.com/jimmy-kimmel-shows-most-people-think-gmos-are-bad-yet-they-have-no-idea-what-they-are-306809.
[ Send to a Friend | Rate this Article ]
---
A team of scientists from Donald Danforth Plant Science Center led by Thomas Brutnell, has developed a new way of identifying genes that are important for photosynthesis in maize and rice. Their research will help identify candidate genes for crop improvement, and revealed new pathways and information about how plants fix carbon.
This research also made public a mathematical model that allows access to datasets comparing C4 photosynthesis traits in plants like maize to C3 photosynthesis in plants like rice. C4 crops such as maize, are able to withstand drought, heat, nitrogen and carbon dioxide limitations better than C3 crops, such as rice, due to their ability to efficiently make use of carbon dioxide and water that make carbohydrates and cell wall polysaccharides; the sugars that are important to producing next-generation biofuels.
"Our research focuses on understanding complex network interactions in grasses with a goal of engineering C4 traits into C3 grasses which can be translated into crops that impact the supply of food and fuel," said Brutnell. He also said that the technologies developed by his team can be used to identify control points for other processes, including nitrogen and phosphate efficiency as well as a plant's response to environmental stresses like heat and drought.
For more information, read the news release at:
http://www.danforthcenter.org/news-media/news-releases/news-item/new-discovery-will-enhance-yield-and-quality-of-cereal-and-bioenergy-crops.
[ Send to a Friend | Rate this Article ]
---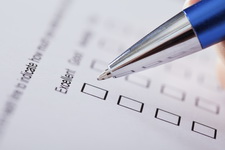 Genome Prairie conducted a survey of 103 communication experts in Canada about their understanding and opinions on issues such as public perceptions of agriculture and science, communication strategies, and accessing agriculture-based information and resources.
The respondents expressed concerns about the public image of agricultural biotechnology. The majority (61%) indicated that the public perceptions were either negative or getting worse, while 35% said that they were neutral, and 4% said that public perceptions were improving. Respondents indicated that a lot of misinformation on agri-biotech was circulating, especially via social media networks. They also emphasized that there was a lack of proactive communication strategies on the issue. The other problems mentioned were the reliability of sources, budget and time constraints, and lack of coordinated efforts across industry.
Read more about the study at http://www.genomeprairie.ca/files/8214/1265/1492/GP_SCI_COMM_Final_Web.pdf.
Asia and the Pacific
Australia's first dual trait herbicide tolerant canola varieties are set to be released in 2015. The varieties will contain triazine and glyphosate tolerance traits (RT). The RT products will be available through Pacific Seeds.
Canola farmers have expressed their excitement about the new technology, saying that it will provide a good suite of tools in terms of weed management. Brett Hosking, president of Victorian Farmers Federation (VFF) said, "It will be good to be able to have some flexibility in terms of chemical rotations, and it will help prevent herbicide resistance."
According to Pacific Seeds Technical Manager, Justin Kudnig, over 500 agronomists and consultants have visited the trials evaluating the RT technology and they witnessed the efficacy of the new technology.
Read more at http://www.farmweekly.com.au/news/agriculture/cropping/grains/herbicide-tolerant-canola-here-in-2015/2713782.aspx.
[ Send to a Friend | Rate this Article ]
---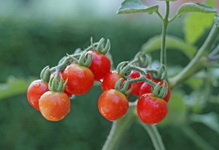 An international team led by scientists from the Chinese Academy of Agricultural Sciences (CAAS) in Beijing, China, has published a brief genomic history of tomato breeding, based on sequencing of 360 varieties of the tomato plant, including wild and domesticated species.
This study, led by Sanwen Huang of the Institute of Vegetables and Flowers at CAAS, builds on the Heinz 1706 variety, the first tomato genome sequence completed in 2012. For this project, the researchers sequenced 333 red varieties, 10 wild tomato species, and 17 modern commercial hybrids from around the world.
Researchers found that tomato mass evolved through a two-step process from the small wild tomato to cherry tomato and then to the big-fruit tomato. The study also reveals the genetic differences between large tomato varieties, and processing tomatoes such as Heinz 1706. The researchers identified genes responsible for this phenotype located on chromosome five, representing a genetic signature of the processing tomato.
The results of this sequencing study are available online in Nature Genetics. The abstract is available at: http://www.nature.com/ng/journal/vaop/ncurrent/full/ng.3117.html. For details, read http://www.the-scientist.com/?articles.view/articleNo/41194/title/360-Degree-View-of-the-Tomato/.
Europe
Scientists from the Department of Molecular Biology and Genetics at Izmir Institute of Technology in Turkey conducted a study to compare the antioxidant traits of wild tomatoes with those of cultivated varieties. The results, published in HortScience, can be used to design breeding programs on improving antioxidant characteristics in elite tomato lines.
The researchers analyzed three different interspecific populations of Solanum peruvianum, Solanum habrochaites, and Solanam pimpinellifolium for antioxidant and agronomic traits. They analyzed each population's total water-soluble antioxidant activity, phenolic content, fruit weight, fruit shape, fruit color, and vitamin C content.
"Our analyses showed that the Solanum habrochaites population provided the best starting material for improvement of water-soluble antioxidant activity and phenolics content with 20% and 15% of the population, respectively, significantly exceeding the parental values for these traits," the scientists wrote. They also reported that Solanum habrochaites population also contained individuals that had nearly 2-fold more water-soluble antioxidant activity and phenolic content than cultivated tomato. The Solanum peruvianum population was determined to be best for improvement of vitamin C content, with 3-fold variation for the trait and individuals, which had twice as much vitamin C as cultivated tomato.
Read more at http://www.ashs.org/news/197188/Wild-Tomato-Species-Focus-of-Antioxidant-Study.htm.
Research
One of the major abiotic stress conditions affecting the healthy growth of plants is salinity stress. Scientists Shaneka Lawson (USDA Forest Service) and Charles Michler (Purdue University) overexpressed Arabidopsis SALT TOLERANT1 (AtSTO1) gene in poplar to determine if the transgene would confer improved salt tolerance to the generated plants.
The results of the multiple greenhouse trials showed that transgenic poplar lines had increased levels of resistance to salt (sodium chloride) than the non-transgenic lines. Further analyses indicated a difference in the relative abundance of the STO1 transcript in the transgenics that coincided with tolerance to salt. Several physiological and morphological changes, including greater overall biomass, greater root biomass, improved photosynthesis, and greater pith size were more evident in the transgenics when compared to controls under salt stress conditions. Based on the results, overexpression of AtSTO1 enhances salt tolerance in poplar.
Read the abstract at http://link.springer.com/article/10.1007/s11248-014-9808-x.
[ Send to a Friend | Rate this Article ]
---
Chinese scientists are studying the role of NF-YC, a subunit found in nuclear factor Y (NF-Y) also known as HAP, in the salinity and drought tolerance of transgenic rice. The NF-YC was isolated from bermuda grass and inserted into transgenic rice. These transgenic rice and a wild variety rice, which serves as the control, was then exposed under drought and saline conditions.
The findings of the study show that the overexpression of NF-YC has improved the salinity and drought tolerance of transgenic rice due to the increase in the transgenic levels of in the following genes: signaling genes, responsive genes and ABA-independent genes, and an increase in the sensitivity to ABA and ABA synthesis levels. These results imply that NF-YC from bermuda grass can be a promising gene that can be used in enhancing transgenic rice's tolerance to drought and salinity.
Read more on the study at: http://onlinelibrary.wiley.com/doi/10.1111/pbi.12270/pdf
[ Send to a Friend | Rate this Article ]
---
Plants have the ability to produce mammalian functional proteins with therapeutic activity, including lactoferrin, a valuable protein commonly found in milk and is important in many physiological processes such as iron transfer and immune response. Tobacco (Nicotiana tabacum) is the main plant system applied for green bioreactors since it is a leafy plant with high leaf biomass and high levels of soluble proteins.
Shiraz University's Ali Niazi, together with his team, isolated the camel's (Camelus dromedarius) lactoferrin gene (cLf) and expressed it in Nicotiana tobaccum cv. Xanthi. Analysis showed that the recombinant camel lactoferrin gene (cLf) was expressed in transgenic tobacco. Tests on protein extract from the transgenic tobacco leaves exhibited antimicrobial activity.
Lactoferrin expression in plants provides a suitable system for large-scale production of this protein. Furthermore, it has been demonstrated that lactoferrin expression in plants confers resistance to plant diseases.
For further information on the study, read the full article here: http://www.pomics.com/niazi_7_5_2014_298_307.pdf